A few characters in movies become larger than life & stays with us even after we finish watching the movie.
Movies influence us & give us knacks of life where the characters teach us something valuable.
Especially the characters of mothers are candy to the eye. Those precious dialogues of old movies like " Mere pass Maa hai" and " Sabke paas maa Nahi Hoti Laxman" have been the favorites of all times.
Every mom is best in her own way. She teaches us about life & all gyaan about how the world works. She is a Hindi film hero who is witty, brave, funny & emotional with a big heart. A few mother figures in movies make us shout " mom, this is you"
Over the years, a few On-Screen Mothers have become our favorite and this Mother's Day Week, we are sharing with you what makes them special.
 .
1. Sridevi in English Vinglish.
A sweet mom who seldom gets the time to drink her own tea peacefully juggles between her kids & husband, serving them with her best abilities. Little does she realizes that she cannot make them happy because of a language she doesn't know.
This heart-wrenching story that made us cry & laugh revolves around the Mom who tries to learn English so that she can win her daughter's heart & erase her insecurities.
Moms are always so brilliant. They always try their best & love us to the core even when we lose our temper or disrespect them. She forgives & forgets so easily which we bet no one can.
2. Ratna Pathak Shah in Sarabhai vs Sarabhai
The high standard Mom who is just perfect in everything that she does. You should think thrice before messing with her. This show always makes us laugh till our belly hurts. Her punchlines of The Mrs. Sarabhai resembles a lot of the mothers-in-law who are sweet, strict, and perfect to the brim who Loves her kids in spite of their flaws.
Moms can be very funny & make us laugh at the most unusual moments, someone who loves to create a scene & embarrass us. Speaks her heart out but hey, we still love momma because this is how she is.
 .
3. Priyanka Chopra in The Sky is Pink.
The mother here outrageously fights for the life of her daughter. The story keeps you on the edge throughout with the highs & lows. Fighting for her daughter's life, treating & taking care of her she becomes a human Google of the disease & debates with doctors too. Knowing she has limited time Priyanka gracefully tries to give her daughter everything that she wants.
That's how moms are. Their braveness & thirst to knock down their kid's illness is higher than a doctor and she can go to any limits to win. Moms love us so much and can also compromise their comfort & values for the happiness of their children.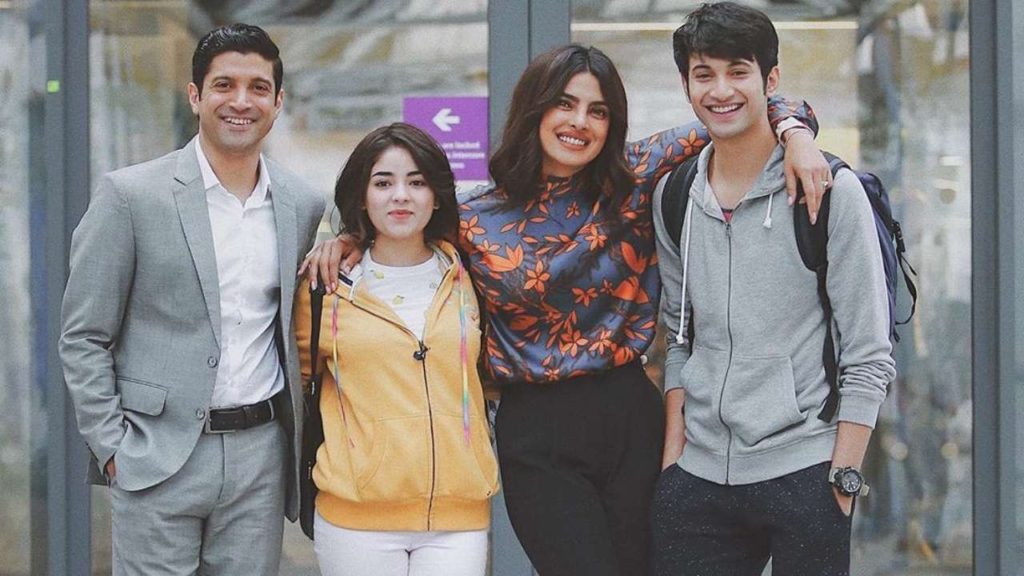 4. Vidya Balan In Paa.
Yet another strong story that tells the story of 2 mothers supporting their kid. The marvelous Vidya Balan & her mom in the movie plays the role of a single mom raising their child who is suffering from progeria, a  genetic disorder which leads to quick acceleration of the ageing process in children. This movie is a lot of fun, thanks to the great Amitabh Bachan who has played one of the best roles in his elite film career. Beating him beautifully is her mother Vidya Balan in the movie who fights against all odds & doesn't give an ear to the society & it's harsh words.
A mother goes through a  lot of hardships when she raises a child. The life of a single mom is much more difficult but there she is, the superwoman who doesn't take a no for anything & decides to raise her child & give her all the love. Grandmothers are equally special, they kneed so much love, support to moms that our mothers become unbreakable.
5. Jaya Bachan in Kal Ho Na Ho.
She silently keeps a stand for her children & never allows anyone to unlove the kid. In spite of a bitter mother-in-law, she handles the house, their restaurant and her kids. There are a lot of pains that is the repercussions of a bad past and she handles it trying her best.
A salute to all the mothers for silently fighting many battles & still giving their children the shelter of love & care, education & freedom. She is the strong wall that stands in front of her children & never lets anyone hurt them.
 .
So this mother's day How about a movie date with Mom? Grab a popcorn bowl & watch these movies on 10th May.
Click pictures of your Mother's day celebrations & add them to your
New Photobook.