Your Wedding Day is a feeling you cannot express, but there's one way. And it's a PhotoBook.
Through holding the moments gone & watching them alive on high-quality paper smooth as your skin, colorful as your bond & a strong build as your relation… A Photobook is the real expression of your Wedding.
Resemble your love in an album because those moments come to fly away, but you have got to hold the ones that you want to stay. The times that you wish should never end gets to stay on a beautiful page in your den.
There are so many things that you both have & will welcome together, but taking time out the Photobook from the shelf & turning pages while sipping the evening coffee will be the times you would be thankful for. For some things bring hidden ethereal in your life. Can you recognize them?
The Age-Old Albums are now the New Photobooks. Preserving memories in a modern style, in a better way & in the best quality.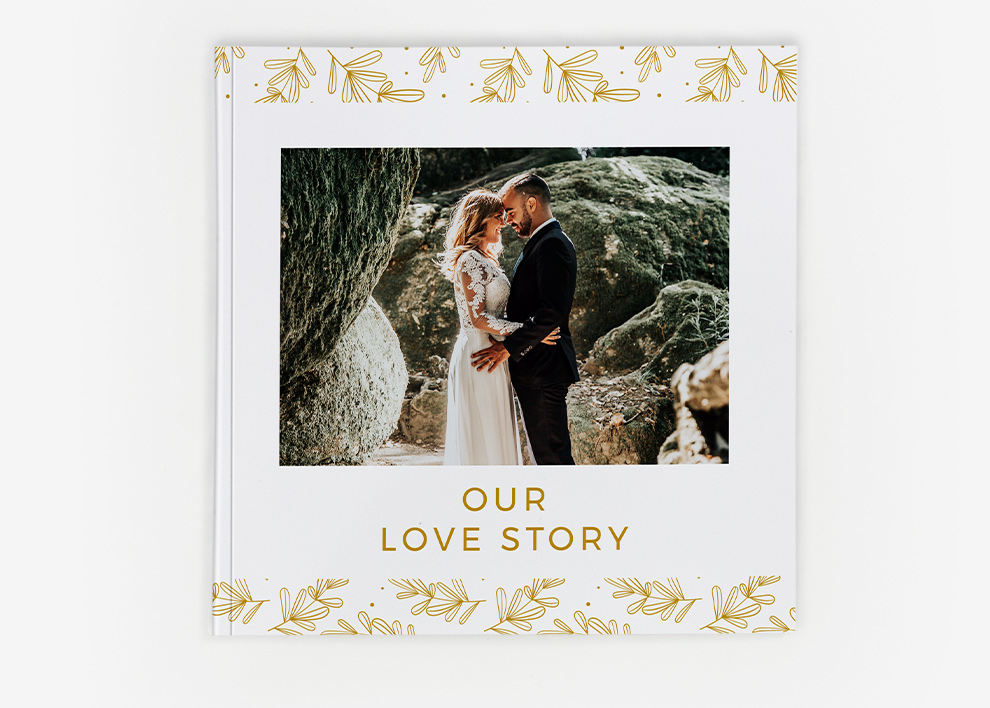 Step Guide To Document Your Wedding Story. 
When putting this project together think carefully about the Photobook design. Most importantly, enjoy the process and have some fun while you are at it. The end result will be something that will be enjoyed for years to come! 
Just to simplify better and make it easy for you to filter/categorize your pictures all you need to know is the four big milestones of your Wedding
First meeting moments & all your firsts.
2.  Engagement Ceremony.
3. Planning for the D-day, all behind the scenes & runs.
4. Wedding Day.
If you have tons of pictures ( which we are sure you must) you should choose to create 4 different Photobooks with this theme. We have got your designs covered and they will all look impeccably different and beautiful, we promise.
Photobooks To Choose
With the wide range of Photobooks, you can choose your ideal Photobooks as per its size, paper quality. With all books above the 5.5″ Size, you will get more layouts & theme options on each page while the 5.5″ book will have a designer cover & text feature for the pages.
CLICK HERE TO VISIT OUR PHOTOBOOKSÂ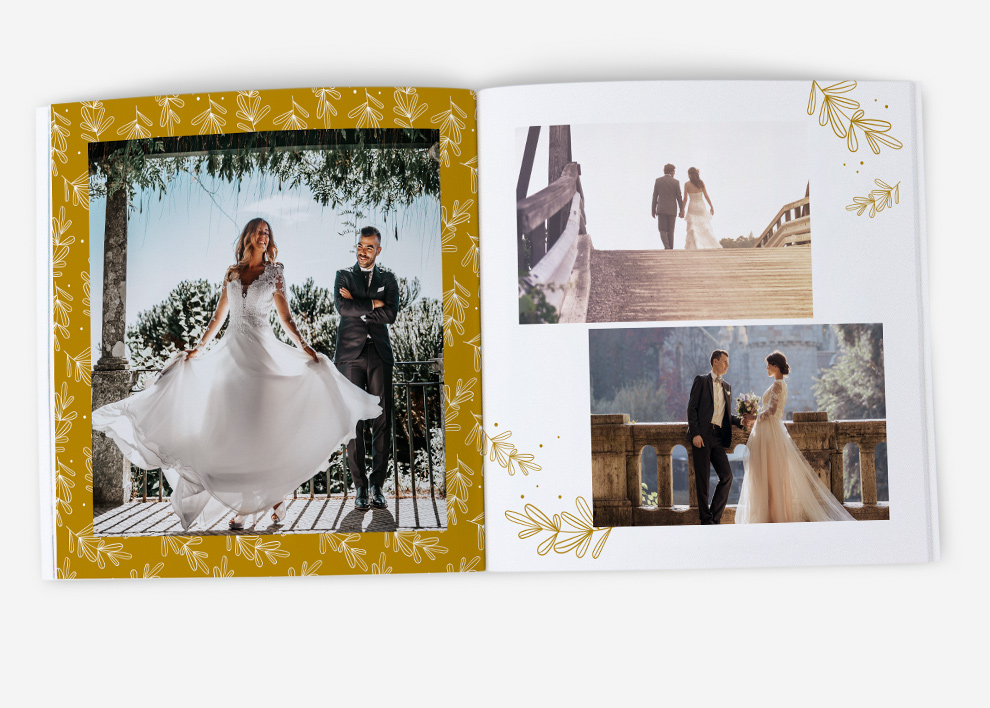 A PhotoBook for the Special Firsts.
Documenting all your firsts as a loving couple is an entertaining way to reminisce about the history of your couplehood. Think back to when you took your first trip together, first WhatsApp chats, the first date, or the first time meeting the parents.
Include pictures of your first meet, the first picture clicked, first movie, first gift, the proposal ( if you were too impatient) and document your " How we met & started to fall in love" Story.
Our favorite design pick – Floret Love from Wedding, Romantic Cartoon from Love
Cover title ideas -Â 
Soulmate Found 
Jab We Met 
When I fell in love 
Our beginnings 
Our First Moments 
(couple nickname) moments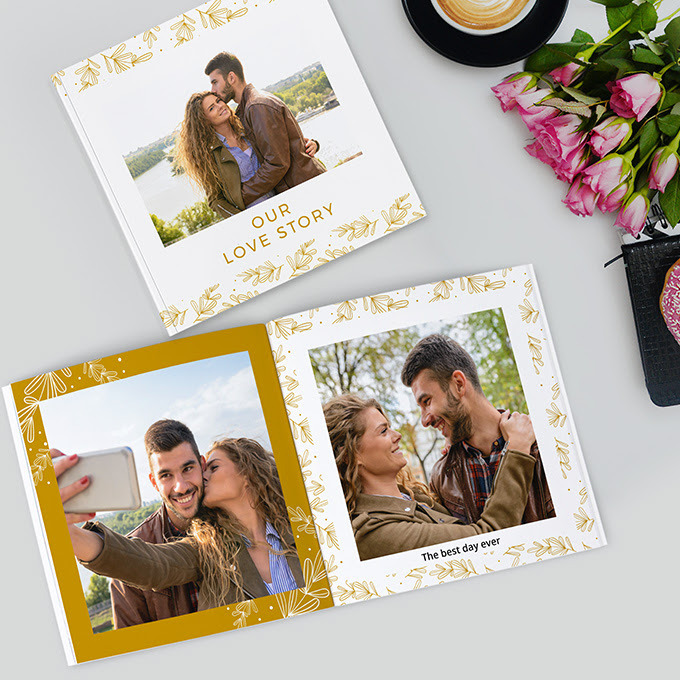 Relive the Engagement Days.
When you saw your life shifting & new happiness welcoming you. The shining pictures of your family smiling & blessing you both. Memories of crossing the milestone from the proposal, saying yes to deciding to spend your life together. 
Everything becomes special with love. All the pictures from your Engagement ceremony in a book.
Our favorite design pick – Our Golden Story. 
Text suggestions/Cover Title Ideas –Â  "My days become a lot brighter to know I am engaged with you, forever"
My most memorable day
Engaged For Life
Happily in love and engaged with you
Head over heels in love
You are my blessing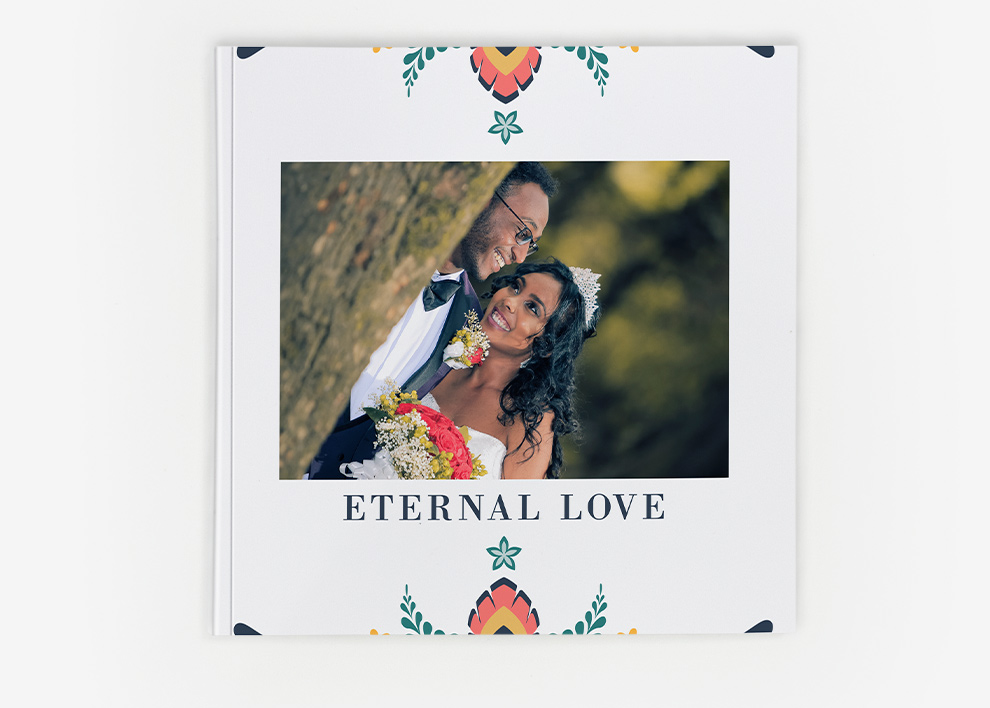 Planning for the D-Day
Making a thousand decisions together, those quest of d-day dress trials, preparing performances & struggling to meet each other amidst all chaos, these moments will give you sweet chuckles & refresh your bond in the coming years.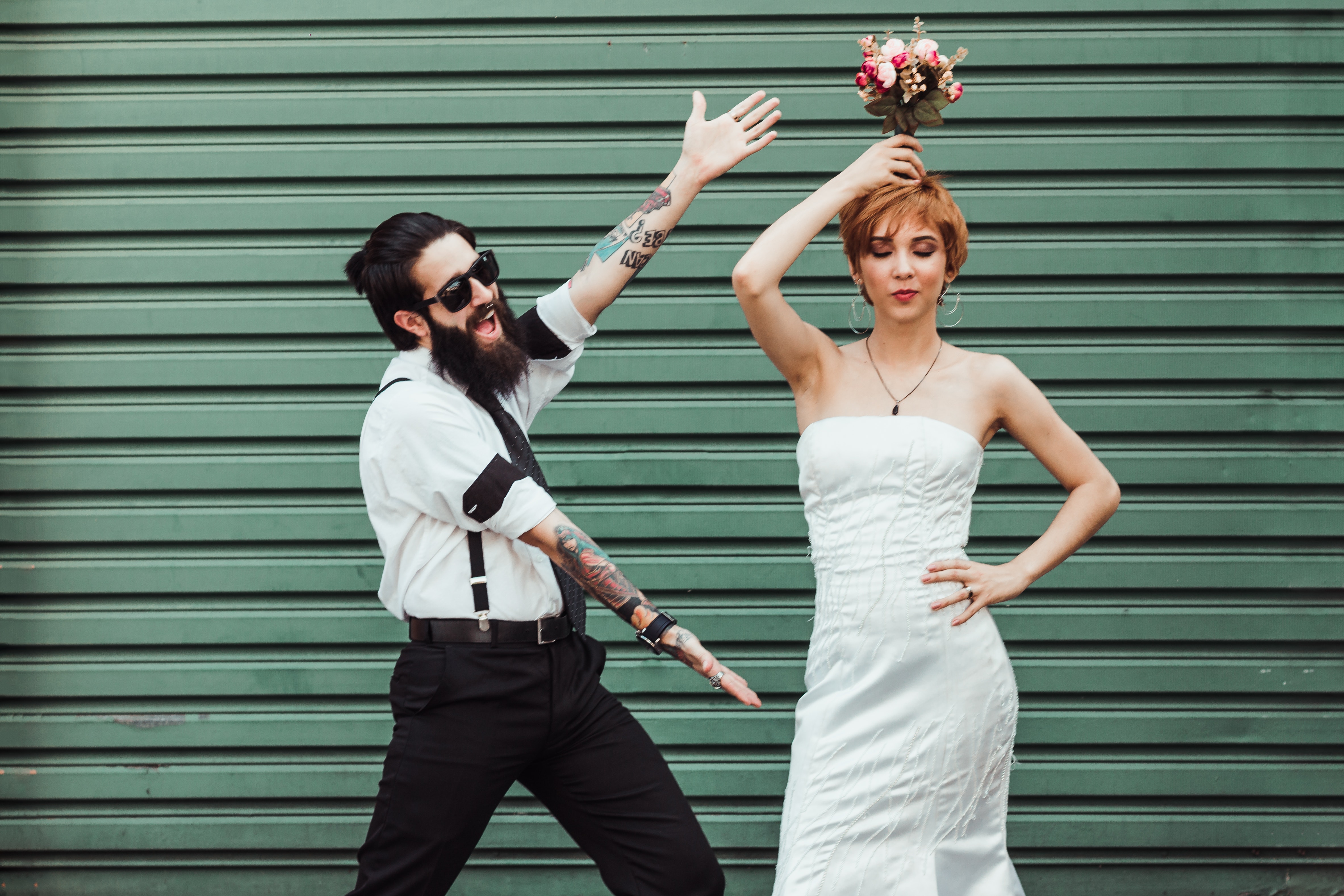 Thinking of what pictures will be right for this book? Everything! All the fun behind the scene pictures deserve a big book. Videos are fun but a printed album with you all caught in action will be ingenious.
All behind the scenes footage are the most favorite pictures to drool in. The excitement and thrill of planning the D Day, matching outfits, pondering over the wedding destination still surrounds you like it was yesterday. Thanks to the memory savior in you & not forgetting your friends & cousins who snapped all the BTS photos. Only for you to laugh at those unfiltered shots all took to sit & watch later. 
Such many little uncelebrated things that make a wedding into a marriage… Needs a permanent place to stay in your life. Little prints for the little moments. 
Our favorite design pick – Love xoxo from Love, Serene feelings from Wedding.
Stickers to add fun – Choose stickers from Love & Baby to fit in your pictures. ( Scroll till the end to know sticker ideas )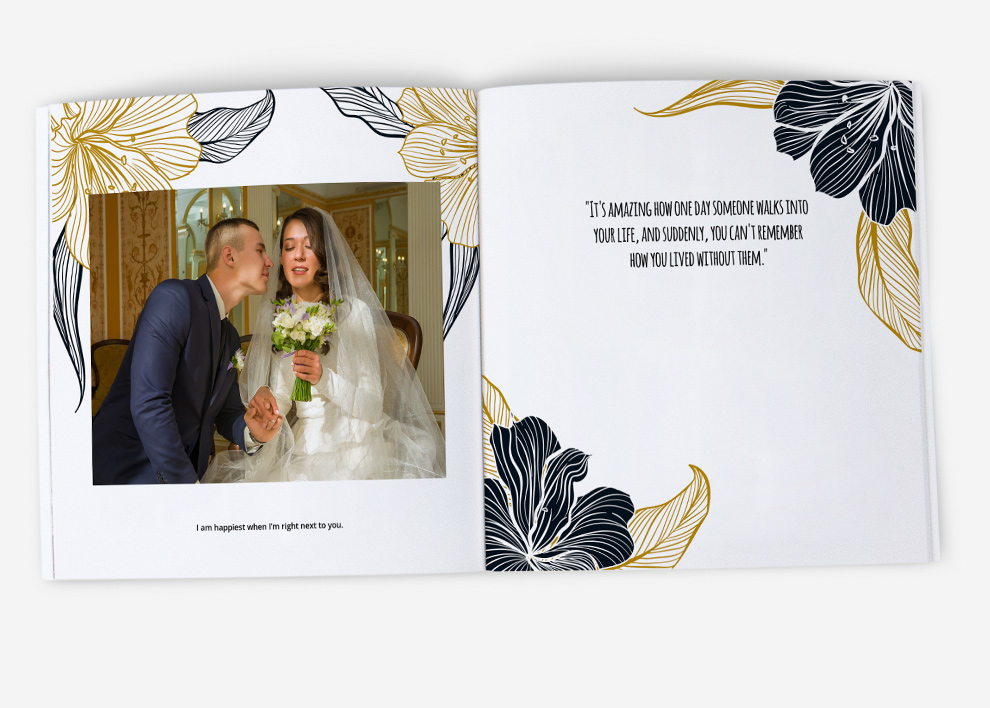 The Wedding ceremony & celebrations.
The walk down the aisle, the first look, the charismatic speeches, and that choreographed dance that blew everyone away. Fortunately, you have plenty of pictures of the special day from your photographer and your guests. 
The many pictures of the most important day of your life are here. Choose the design you love to preserve your once in a lifetime moments.
Print your wedding pictures on the 10 x 8″ Hardcover or the Layflat album.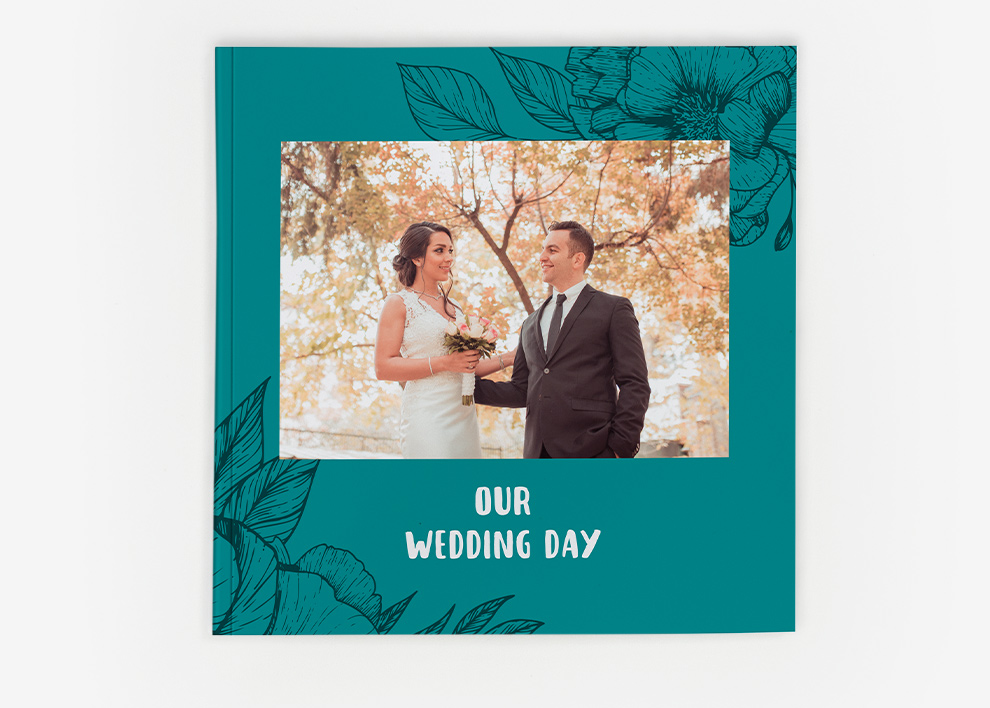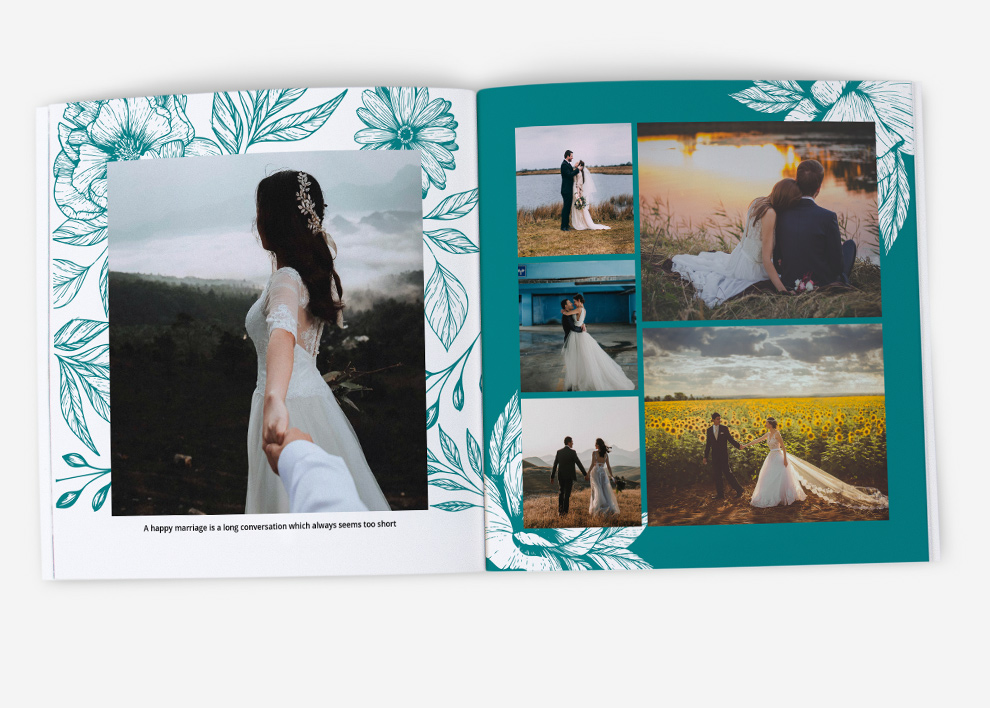 The Big Layflats. 
For the larger than life experience. Complete your Wedding Documenting experience with the Zoomin Layflat book. Get maximum coverage of your precious memories with the photos spread across the centerfold from page to page.
For the newbies here is what a Layflat looks like. The pages stay open and remain flat, so you don't have to hold down the pages while viewing it. Layflat wedding albums are appealing when you've got panoramic shots to savor. It has got the best binding with ultra-thick paper & a seamless panoramic view of your pictures.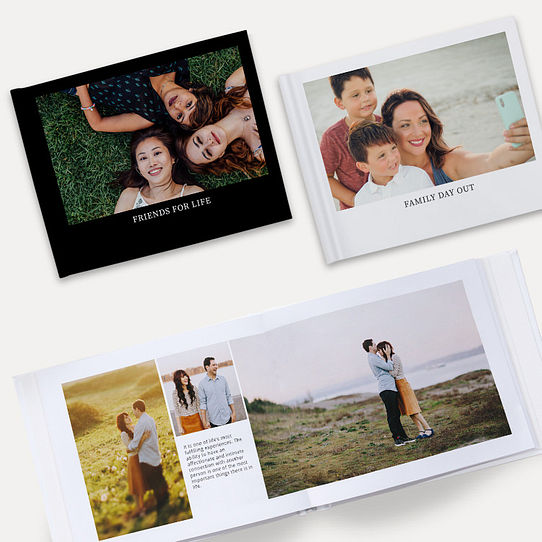 There will be many pictures but a few close to your heart that came out to be the best. Pick them and place them on a Laylat Book. For its shine will never fade.
There are many reasons why you should choose the Layflat for your Wedding Day pictures concerning its Grandeur style and one of a kind quality. A must-have for all married couples.
Why Zoomin Layflats?
Reasonable pricing than the ones you get from your Photographer. A wide range of designs to choose from, bestowed with the Zoomin Orange Promise. If you are unhappy, we will take it back & fix it as per your requirements. Customization is available to the best we can.
You can create your Wedding Album as you want with 16 Layout options to add multiple pictures on a widespread. Stickers are available for more personalization & styling.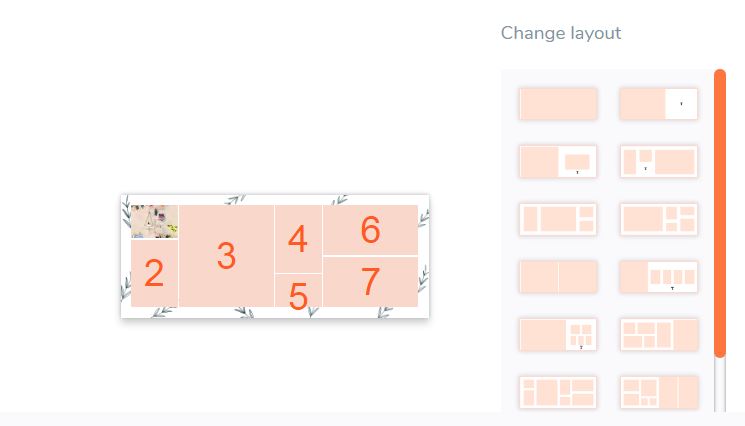 Stickers to highlight your Love Story.
The stickers collection will help you to document your story just as you want it. We have a love specific theme, but going an extra mile, there are suitable stickers to fit in your love story too. Read on.
Welcome your bride with the " Welcome Home " sticker in the baby section
Use " Sent from heaven" to pamper your partner with some cheesy lines ( why not? )
The "zzz" sticker for your tired pictures in the BTS footages for the 3rd album.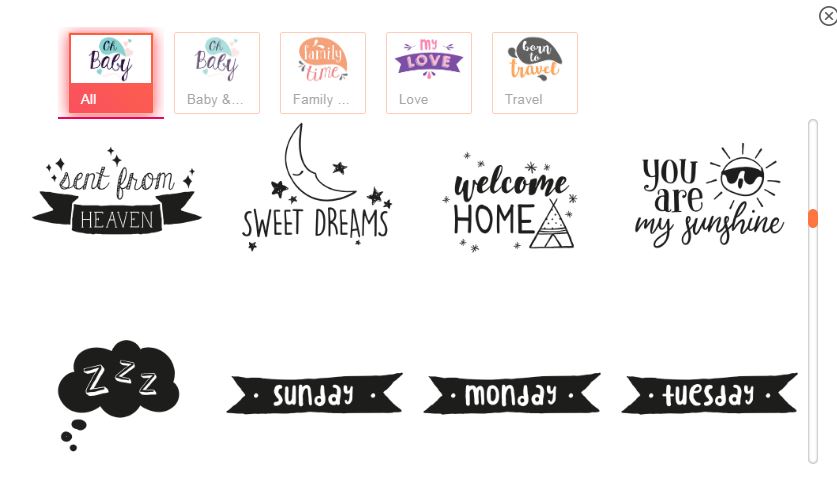 "She said yes" sticker under love will go best in your engagement book.
" She's mine" " Take my heart" for the Wedding Photobook.
"Thinking of you" will go best for your First moments Photobook.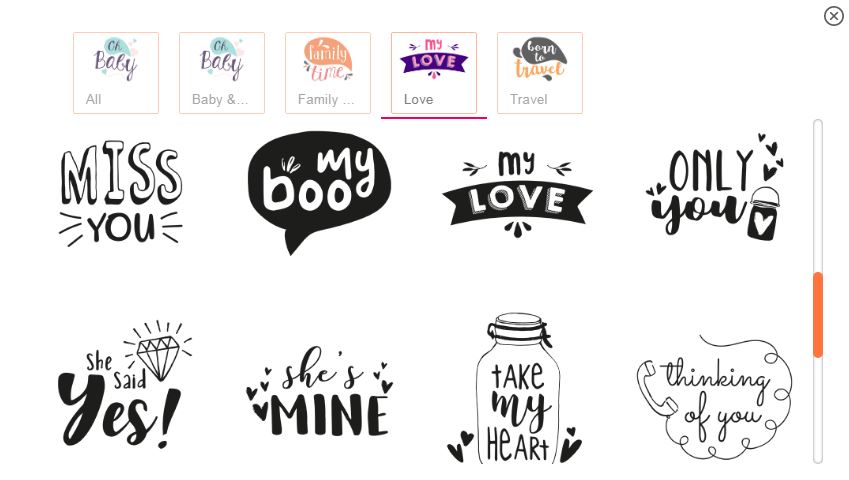 Once in a while, right in the middle of an ordinary life, love gives us a fairy tale.
We hope you color the blank canvas bright with your lovely pictures & smile always greets you on opening these Wedding Photobooks 🙂