The wedding season is here and we are back with some fabulous new designs, for you. We are here to help you with some fresh ideas – to use these new designs for square prints and book covers in a way which will enhance your lovely memories.
Allow us to turn your wedding celebrations into prints memories you will cherish forever!
1. The perfect wedding gift – A photo memory + a personal message.
Square prints and photobooks are the perfect gifts for your loved ones, where you can pick all lovely photos of the couple, handwrite what's in your heart, stick many photos & wrap it with love to gift happiness.
2. Use square prints like a King!
You can pick each square print with a beautiful message at the back, and put it across the mirror.
When he opens his lunchbox & finds this lovely note #blush
When she opens the coffee shelf in the morning & finds a cute photo with a message. #Aww
Make a simple DIY with jars filled with candies & insert a square print inside. The molded photo across the jar wall makes a cute view & the best surprise. #classic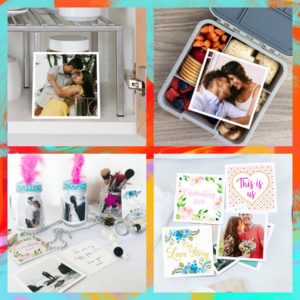 3. Rejoice your anniversaries.
From new beginnings to a silver-golden jubilee, sharing life together is what a marriage all about. Make an everyday surprise with squareprints for 7 days before or 10 days before your anniversary. You can write messages appreciating your partner, or just write "5 days to go" etc – when you are short of words 😉
And with our square prints, your job is so much easier now.
In the times of Whatsapp & facebook–handwrittem notes and letters spice up your relationship. An idea that never goes out of style.
4. Print your pre-wedding shots on the 32 pages Easybook.
Instead of searching all way down in your Google drive, you now have them stored forever. Pre-wedding photos are exciting & always stunning. Print your dreamy fairytale shot, innocent candid, the titanic pose & all those iconic drone shots.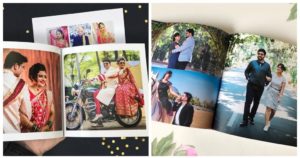 5. Print your Wedding!
The royal lehenga shots, your Mehendi & sangeet ceremonies, the eye makeup, the groom watching her bride enter shot, the royal bridal entry, bride's jewelry choker. Print your wedding moments. If you snacked on snickers in your lehenga or had a bowl of Maggie in all that jewelry, just print them.
"We are tying the knot "- send wedding invitees to your special bunch through personal handwritten square cards.
7. Accessorize your gifts.
Add square cards in any gift basket you are sending around to people for your wedding, or gift a basket with a written note to the couple. On the top of a bouquet or a box, this goes well with all your gifting and special messages purposes.
8. The movie of your life.
So if your bestie is getting married and you are still gulping the fact that you have to share him/her with a new person– print all the highs & lows moments of your friendship in the 20/32 pages easybook. Now that's a genuine gift that indicates, your friend always has your back. This is definitely the best and must wedding gift to your friend.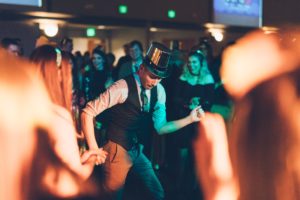 9. A dedicated Cocktail/ Bachelor Party Photobook.
Yeah, get them on books. Get the special photos from your Bachelor's party on the photobooks, those pictures of partying and dances are an event to store. Bring back cheers & laughter while turning pages.
Photobooks & squareprints are not just mere books or cards. They are created with a lot of love and emotions. We join all the dots and create a beautiful memory then color them with the colors of love & joy, so they stay with us forever.
Print a lovely wedding memory now! Get 50 % off, use Code- WEDBOOK. Also shop Square Prints @50% Off, Code- WEDCARD. Upgrade to premium and get free wedding theme cards. Offer expires on 18th Dec 18. Order your Photobooks and  Squareprints now. HURRY!