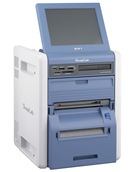 An event like Christmas at  Westside would not have been possible without the extensive support and incredible technology from our partners at Sony.
The latest Sony instant printing technology is fantastic.  The new range of printers like the SnapLab UP-CR20L pictured here and the UP-DR200 all support Pro-Matte.  Pro-Matte is a technology where both Glossy and Matte prints are possible from the same paper – without having to change any media.  Moreover, the Pro Matte Finish technology adds the fingerprint-resistant quality, which makes it a great choice for portrait prints at our events.
All this at incredible speed.  The CR20L can print a 4×6 in 8 seconds.  Unlike inkjet prints, "Print by Sony" Dye Sub technology produces prints that last a lifetime.  We are thrilled to be showcasing the SnapLab and DR-200 at our events.  More on this product line can be found at Sony's website.