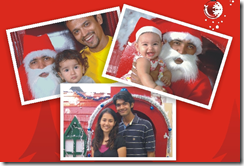 This Christmas, come to Westside with your family to shop & enjoy! At select locations across the country, you can get a professionally-taken Christmas themed photo with your kids, family or friends — and Santa too. For just Rs. 75 you get a 6×8 instant print, poster calendar, and some very trendy Zoomin gear.
Christmas at Westside is an experience for the entire family as there is something there for everyone. Great shopping of course, but also fun activities for the kids like magic shows, hair braiding, tattoo artists, and pictures with Santa.
This event runs on December 20th, 21st, 24th and 25th. The Zoomin photo activity runs from Noon to 3 PM and from 6 PM to 9PM. So come in this weekend to a Westside near you to celebrate Christmas with Santa and Zoomin.
List of participating stores
Mumbai
Pune
Kakade Magnum Mall, Camp
Kakade Centre Port (Next to E-Square), University Road
Delhi
3CS Mall, Lajpat Nagar
TDI Mall, Rajouri Garden
Ahmedabad
Law Garden, Opp. Mayor's Bungalow
Jaipur
Chennai
Bangalore
Garuda Mall, Magrath Road
Garuda Mall, Jayanagar