There's one very important relationship in the life of every child. A bond equally or maybe, more important and wonderful than that of parents with their children; it's the relationship that one shares with their grandparents.
Well, I have lived with my grandparents for a longer duration than I have lived with my parents. Right from my childhood, and by childhood I mean right from the age of one I have been around them. Sometimes, when my parents traveled out for work, I stayed back with my grandparents.
Every child who gets a chance to live with and be around their grandparents is very fortunate, for we get to learn about life and see the world in a completely different way. We grow up and mature with them and they remain youthful with our companionship.  But, I consider myself to be extra lucky as I have grown up in a joint family where I have three #dadas and three #dadis. What a blessing it is to live with them and learn about life!
I'm sure, just like me even you consider it bliss to have known and lived with your grandparents. Isn't it amazing to have your grandparents pamper and spoil you and yet fill you up with great values for life?
Let me tell you about my grandpa. He's a great person. He spends hours worshiping god and chanting mantras in our house's mandir. He writes spiritual texts as well (this is something I discovered just a few years back) and he's an avid reader. You ask him anything and he will definitely have the answer to it, he's super knowledgeable.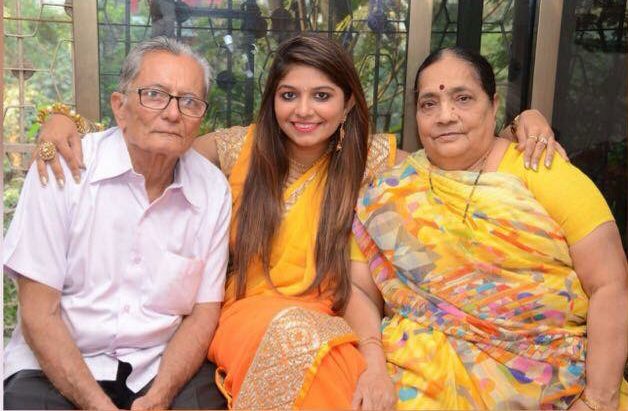 I've spent so much time with my grandpa talking for hours and hours before going to bed about every possible thing, be it spirituality, books, life lessons, about places, movies and so much more!  Yet, there's so much more left to know and learn…
Moving on to my grandma; she's amazing! I'm sure you'd all agree to the fact that you gain a few extra kilos when you visit your granny. Right?
Well, the same goes for me as well..She, like my grandpa is an avid reader too. And, even at this age, she loves to cook scrumptious meals for me, my sister and my dadi's only grandson- my uncle's little boy.
Another fun fact is the way our grandparents speak about the achievements of their grandchildren in front of relatives or guests. I can literally see the happiness and pride in their eyes when they do so (even though it sometimes embarrasses me, lol).
I'm guessing you will also relate to this.
My grandparents are an integral part of my life and surely in yours too.
So, this grandparent's day, why not surprise them with great prints (available on great discounts) which they will definitely cherish forever! If you're looking for some really wonderful gifts, click here and get a flat 25% off on Canvas, Metal Prints & Photobooks.
It's an absolutely amazing bond every child shares with their grandparents. I'm sure you too have some great stories and memories with your grandparents. Why not get nostalgic and share them in the comments below?