Rakshabandhan is no longer just about a brother & sister, isn't it? We Indian families love ALL our cousins too! Extended families are always a part of our celebrations.
Are you stressed thinking of gifting ideas for your 4 paternal and 7 maternal cousins? Are you one those boring siblings who passes off a last-minute 'cash envelope' instead of a thoughtful gift?
Not this year! This Rakshabandhan (August 22nd), impress your family with meaningful photo gifts starting at Rs. 149 only!
With these 3 hacks, save yourself some precious time, effort & money while ordering Rakhi Gifts for all!
Hack #1: Duplicate the gift
Step 1: Select the gift you want. Click here to pick from gorgeous Framed Prints, Photo calendars, Mugs, Photobooks, Magnets, Prints & more.
Step 2: Upload family group pictures from past celebrations, gathering, trips etc.
Step 3: At checkout, simply increase the quantity to the number of cousins you want to gift to!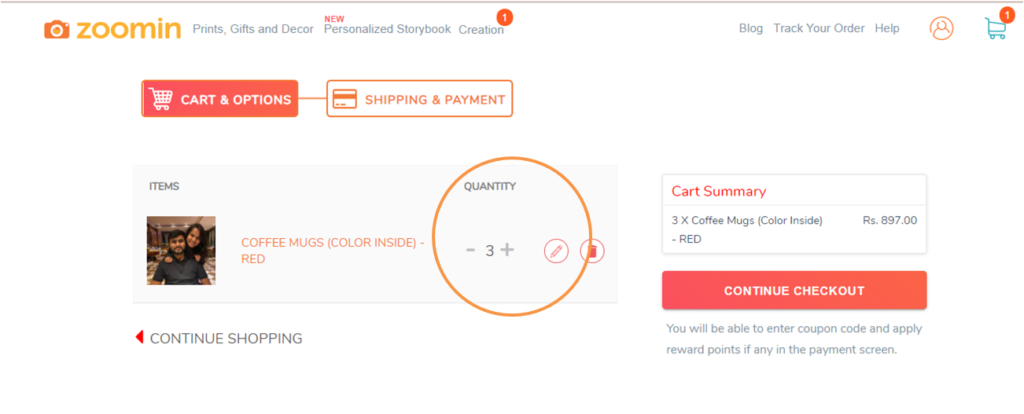 Hack #2: Make small edits to the gift
Have you personalized your gift with some text, stickers or pictures that are different for each cousin/sibling? No problem, you won't have to recreate your gifts again and again.
Step 1: Select the gifts you want to give.
Step 2: Upload your pictures & personalize it with themes, pictures, text, stickers etc.
Step 3: Click on Save Creation & name it

Step 4: Access your creation in the Creation tab

Step 5: Duplicate it & edit this version with whatever changes you want to make (replace/crop pictures, add stickers, text etc.) and add it to cart. So easy! 🙂

Hack #3: Save 25% on your order!
Add your gifts to the cart & apply code: CELEBRATE25. Save flat 25% on all your gifts!

Time, money & effort saved!
Order your gift's at 25% off now.