Hello Zoominers! I am Anshika Gupta, blogger & fashionitsa (@anshikagupta_1012) 😀
This week I've taken over the Zoomin blog & I'm super excited to be writing this post for you all! As most of you know, I recently got married to the love of my life Saksham Gandhi.
As the weeks passed by I loved looking at the pictures of my perfect day. Whenever I got some free time, I'd find myself organizing the pictures on my device. Even though I loved curating pictures from all the 4 wedding events, I often felt that I was missing out on something important. Switching between folders & viewing the images on my tablet, phone or Instagram felt good, but it was not entirely a fulfilling experience.
And then last week I came across a page on Instagram @zoominstories. I was intrigued by the unique Photo album that I could create directly from my phone! (so cool right!?). When I contacted them, they alerted me of a Wedding Special Sale that is currently live on their site & app. I could create a wedding Photobook of my dreams at a whopping 40% discount. This was not an opportunity I could pass up. I was told that all I needed were my pictures which I could upload from my device onto one of the many designer templates available at Zoomin.
And so that's exactly what I did! Click here to understand how you can create your own photobook 🙂
Here are the simple 4 steps I followed:
Step 1: Download the Zoomin App on Android/iOS OR open the website
Step 2: Select one of the many designer themes for my photobook
Step 3: Upload the images which I had kept ready beforehand & edit/resize/re-arrange them
Step 4: Review the entire book, add to cart & make payment
I used the coupon code 'VIVAAH' during checkout and got a discount of Rs. 500 on my order!
Here are is a pictorial story of the AMAZING experience I had with my Zoomin Photobook creation:
I surprised my husband with this super special personalized Photobook on our 8th month anniversary. And ofcourse he was SPEECHLESS!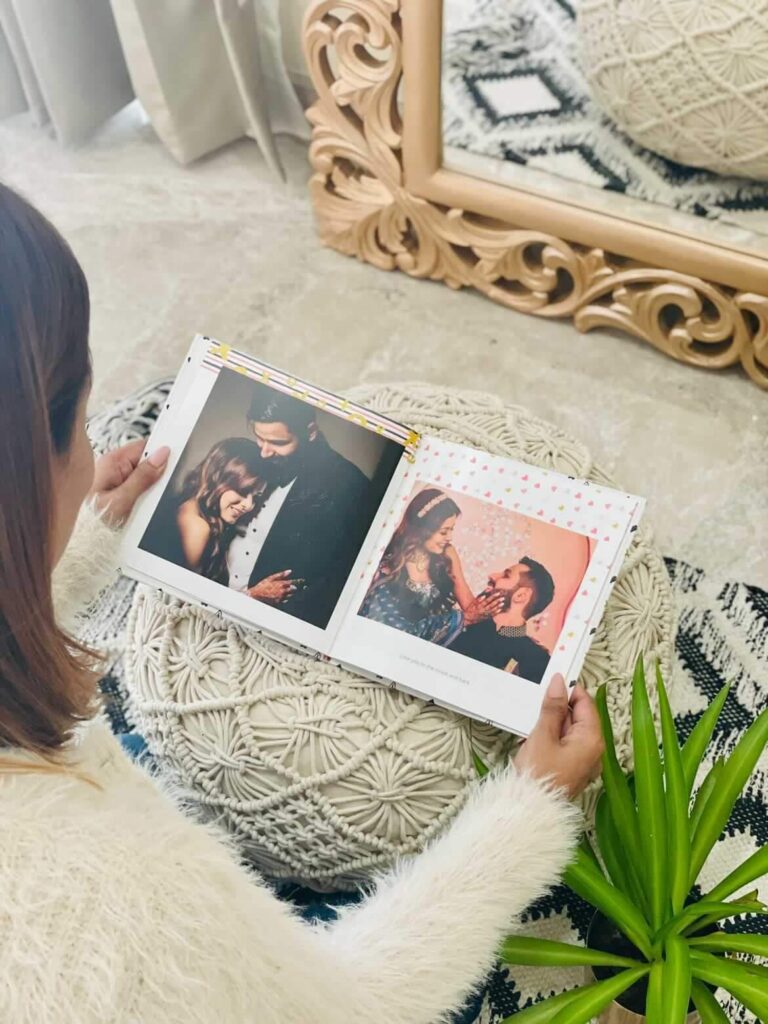 8" hardcover premium matte Photobook
Thank you Zoomin for such a simple yet elegantly tangible way of preserving the favourite day of our lives. I love the feeling of flipping through my book & often showing it to my friends and family!
I totally recommend this to everyone. In fact, the Royal Vivaah Sale is available on a few other top-end products too. Go ahead and gift something special to a newlywed couple, your better half or even your parents!
P.S: This sale expires in 4 days, hurry & make the most of it!
Lots of love & luck,
Anshika