We launched the most awaited calendars last week & still can't stop talking about them.
It has been loved by all of you and here are the ones we are crushing on right now.
 Magnet calendars. 
Inspired by the power of magnetism & it's gifting strengths on all poles of celebrations makes this Calendar our first major crush.
It's easy to handle & weights nothing ( so perfect for everyone in your special contact list)
The price is Rs.249/- making it the smartest buy.
Fits anywhere & doesn't require space more than 5.75" tall x 8'' wide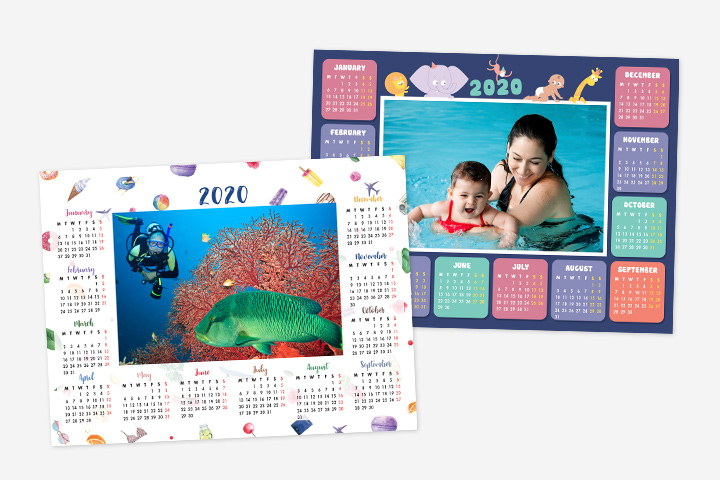 A calendar with so many Star points 😉
If you are someone who has to gift a lot of people – choose this.
If you are someone who has a big party coming up, a friend who owns many gadgets, fridge magnets collectors – This 6×8 magnet calendar is the right classic-cute choice.
2. Poster Calendars.
Did you grow up seeing brands calendar or the still coming in God's calendars?
Ever felt like having your big picture on those iconic 12 months? (That unsaid imagination is now a poster calendar ) 2020 is the year of blessings 🙂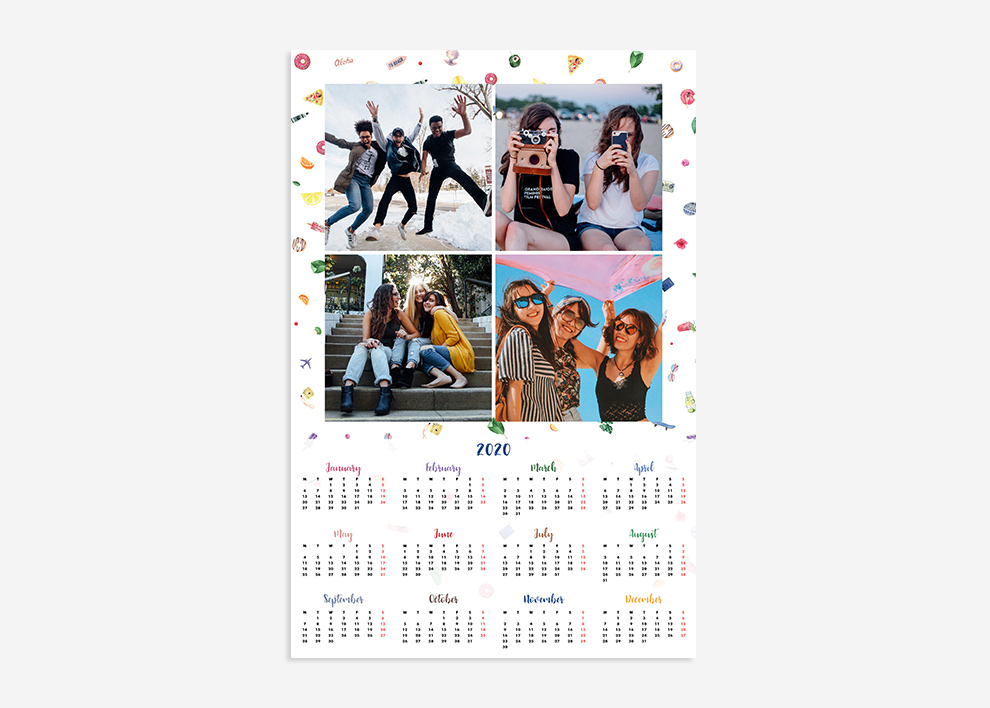 -A size to decorate your wall with beauty -Â 12" wide x 18" tall.
-It is Printed on 250 GSM Glossy paper with optional upgrade to Premium Non-tearable or Lush Matte archival paper. The premium touch of this poster is worth a buy, we promise.
-With themes like summer, floral, baby, classic & love – fit in your favorite theme.
-4 big grids for 4 captures.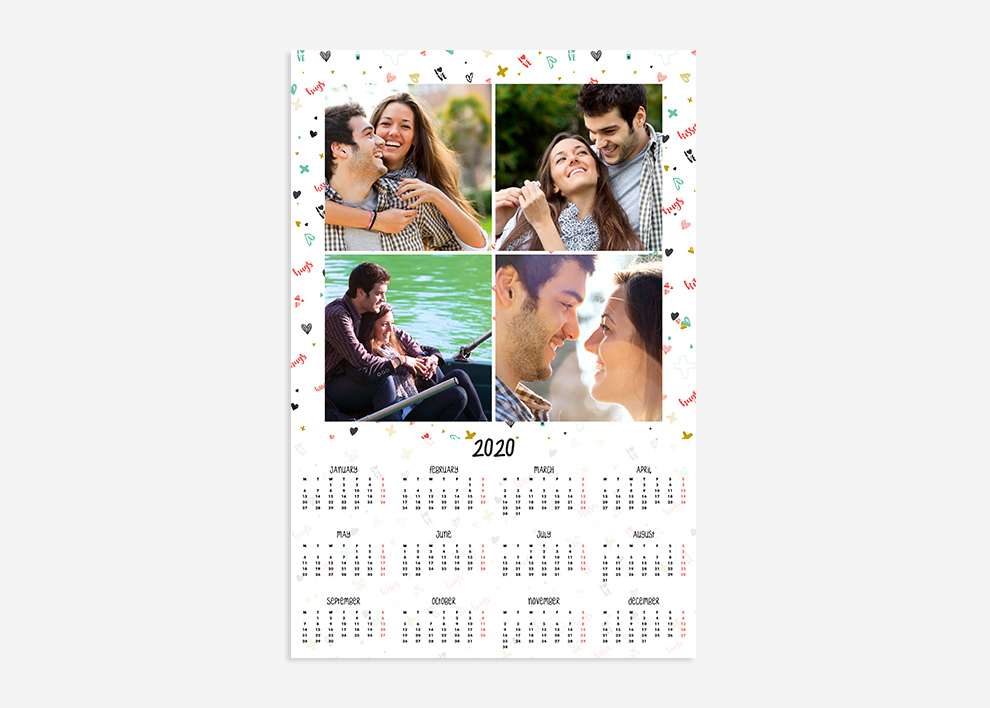 3. Landscape Calendars.
This is everything one can ask for. The landscape calendars have a special love in our hearts. WE DON'T HAVE TO SAY MUCH, IT SPEAKS FOR ITSELF <3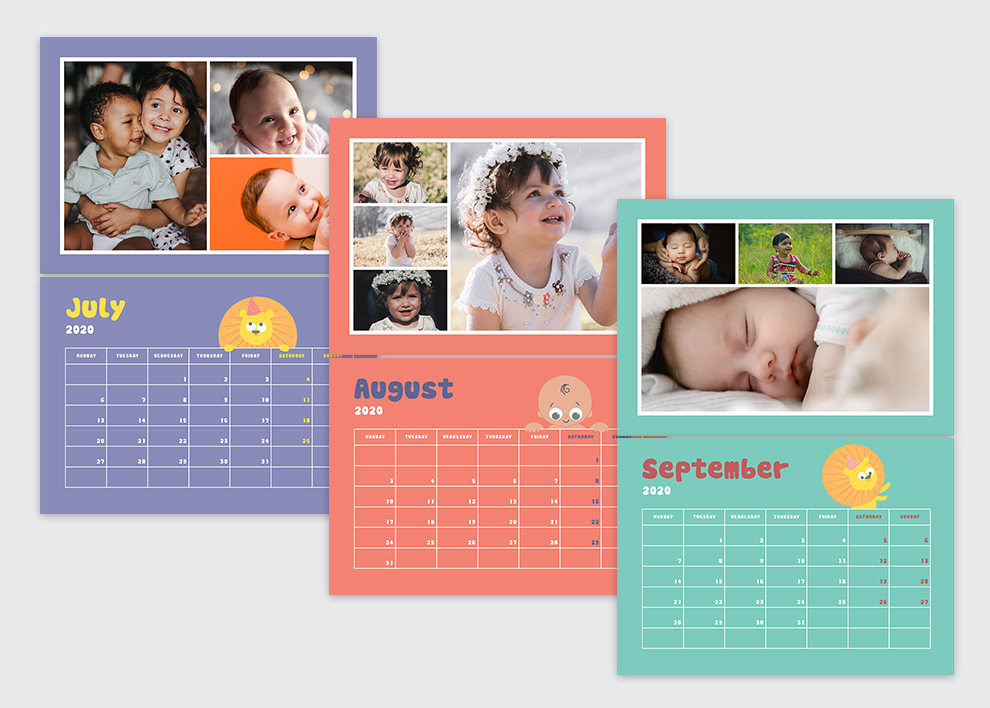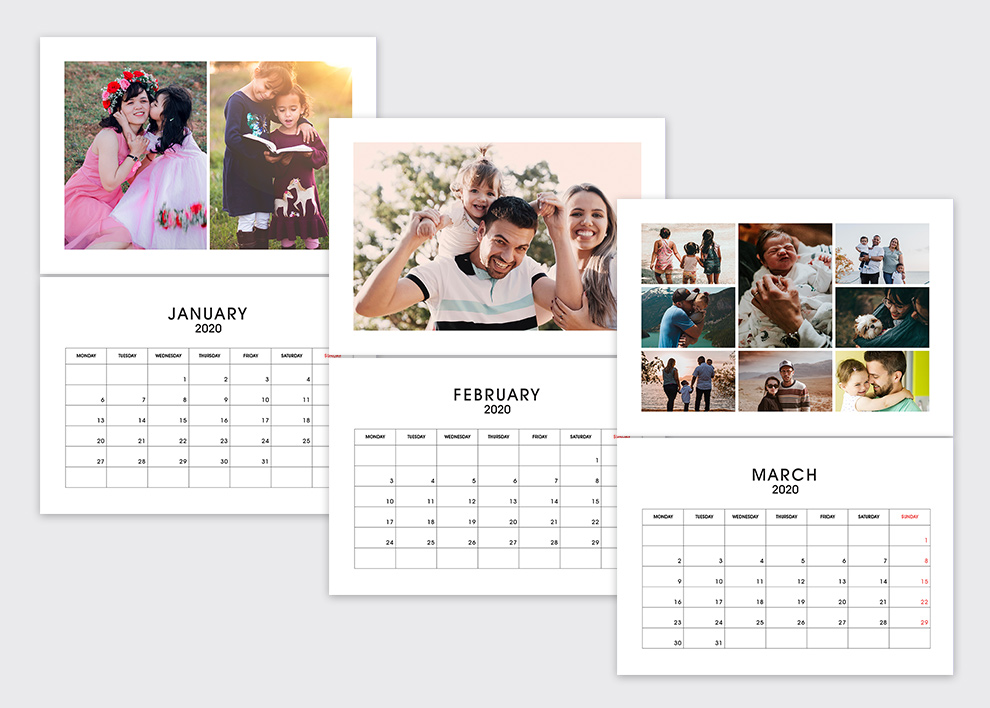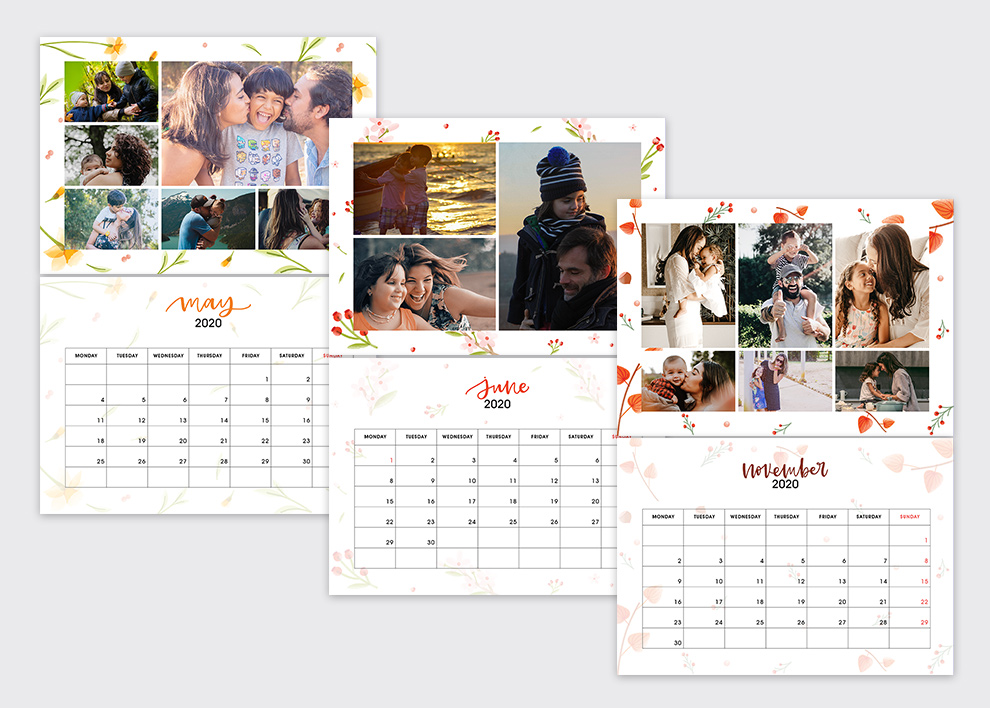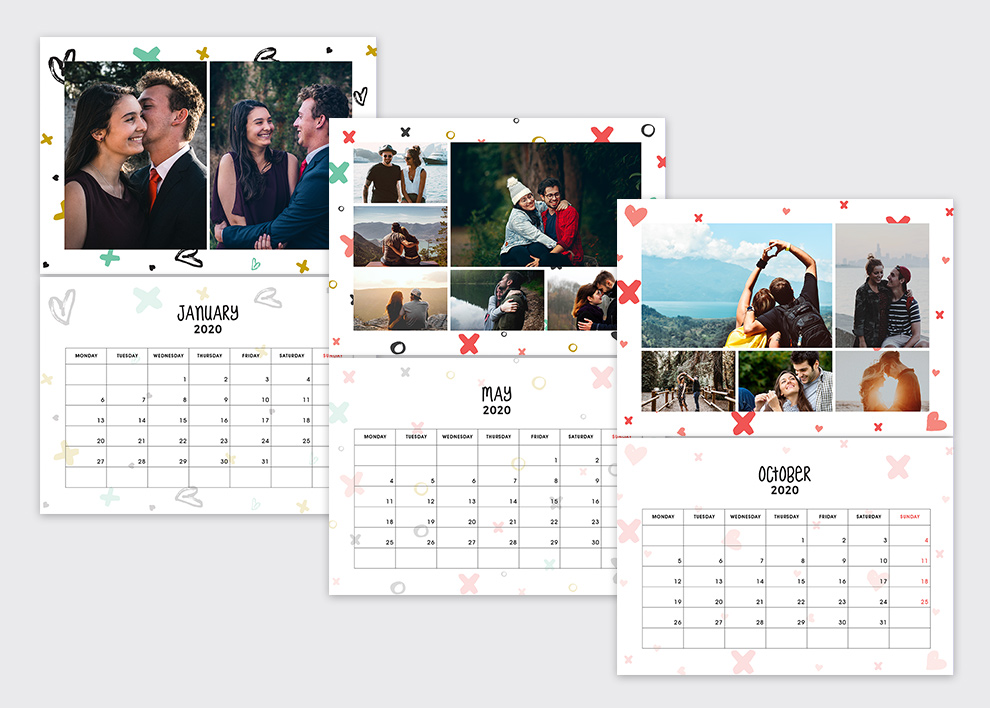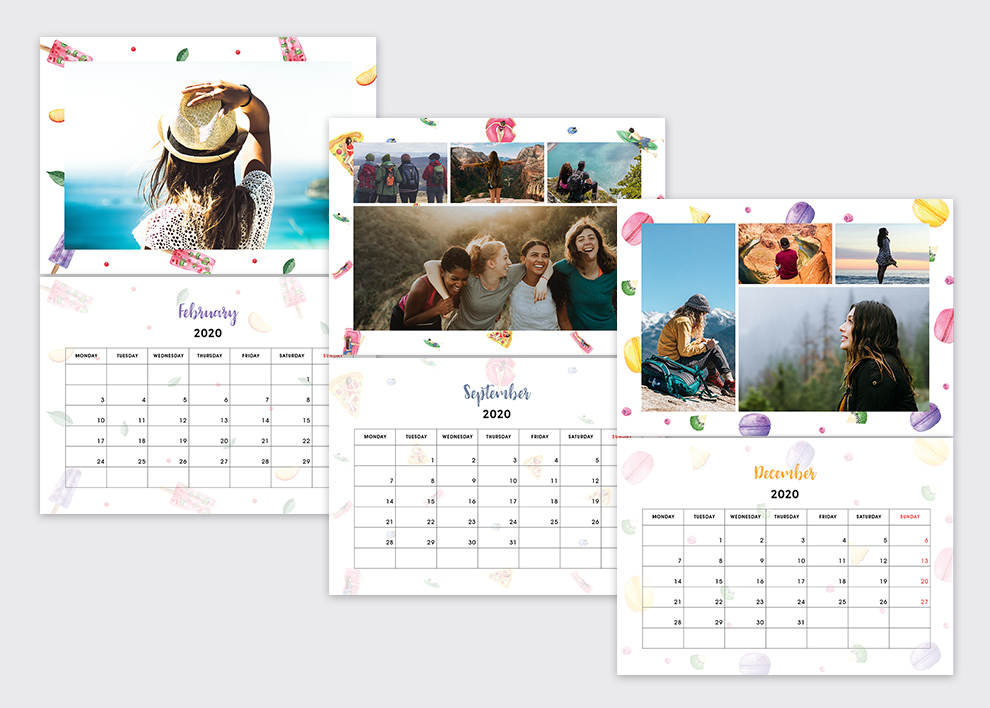 The first calendar which has a multi-photo layout including a single landscape, 2 grids, 4 grids & collage style.
The numbers are made fun with grids space to write notes & mark important dates. Now forget nothing 🙂
Waking up each day to your favourite pictures is bliss. Having a grid calendar makes you stylishly organized.
Get greeted with this 11.5'' wide x 8.25'' tall piece of happiness in various designs.
4. Wall-mount portraits. 
This one competes humans in multi-tasking & creativity.
Ever used a past month's page of a calendar? What if we say our wall-mount portrait is usable every month? 😀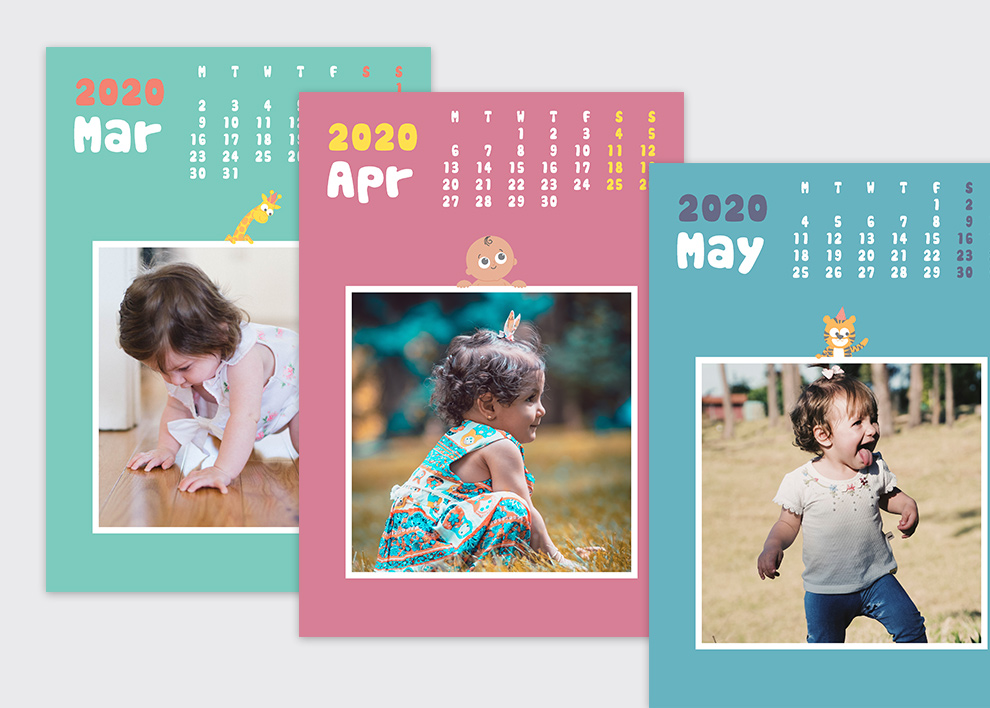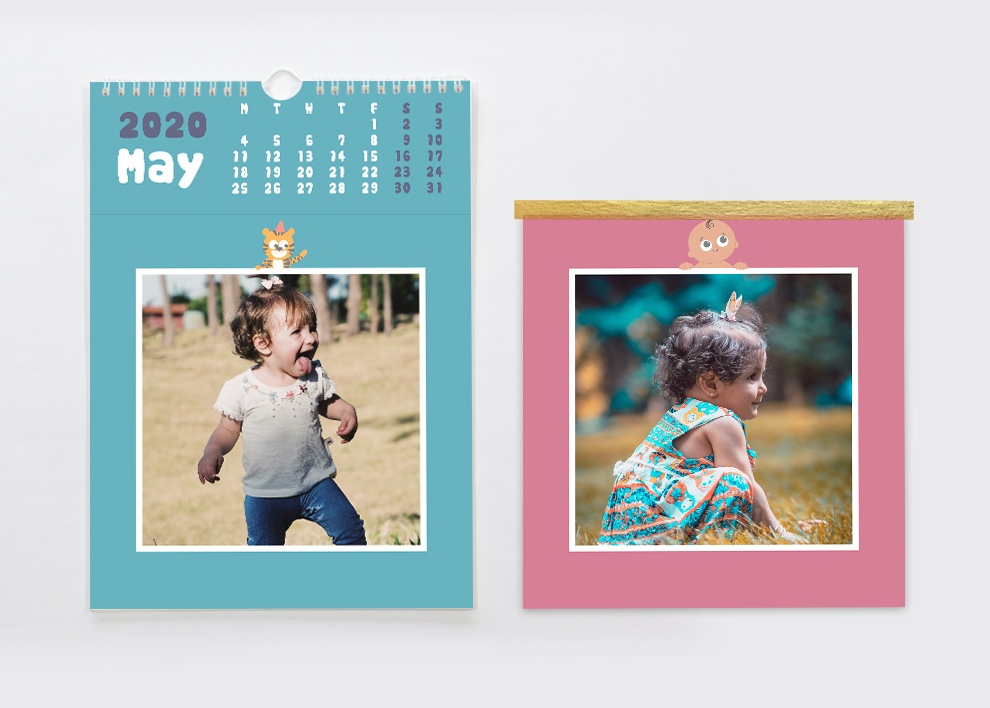 This calendar comes with a perforated page which allows you to tear the picture & use it as an individual card stock photo print for your decor, gifting purposes. Take the liberty to be creative.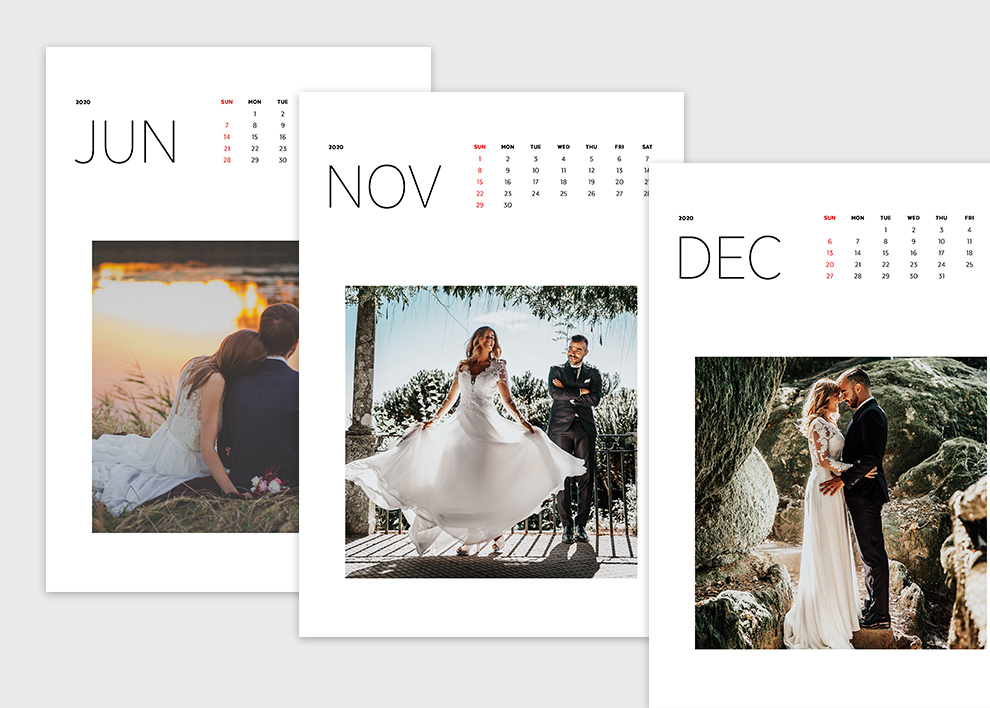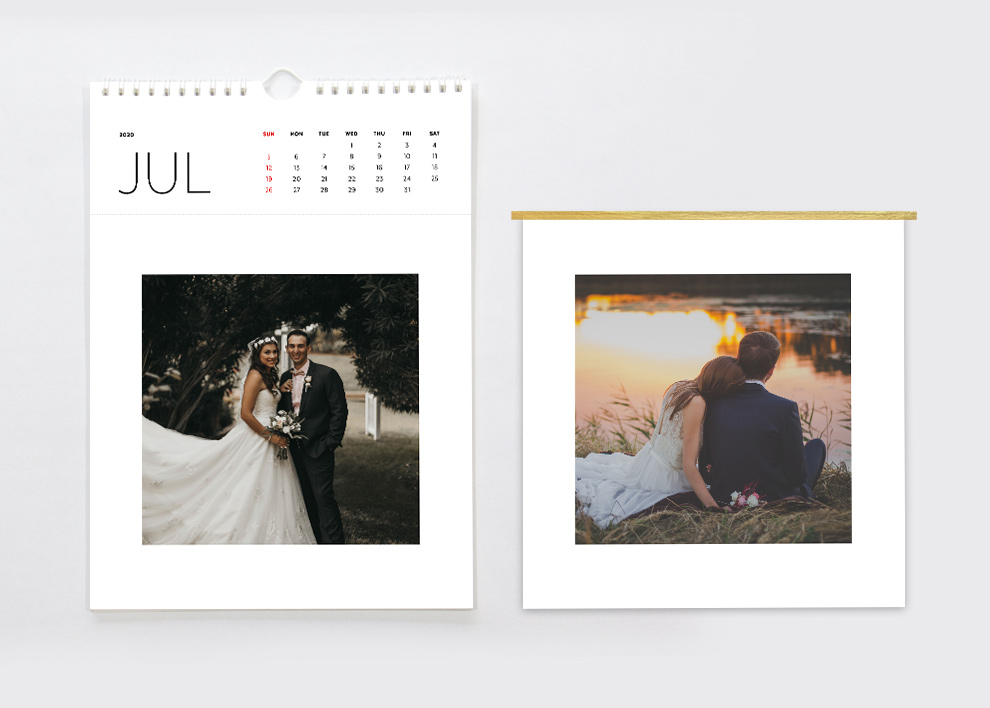 The paper quality is glossy with optional upgrade to Premium Non-tearable or Lush Matte archival paper. It feels perfect in hand.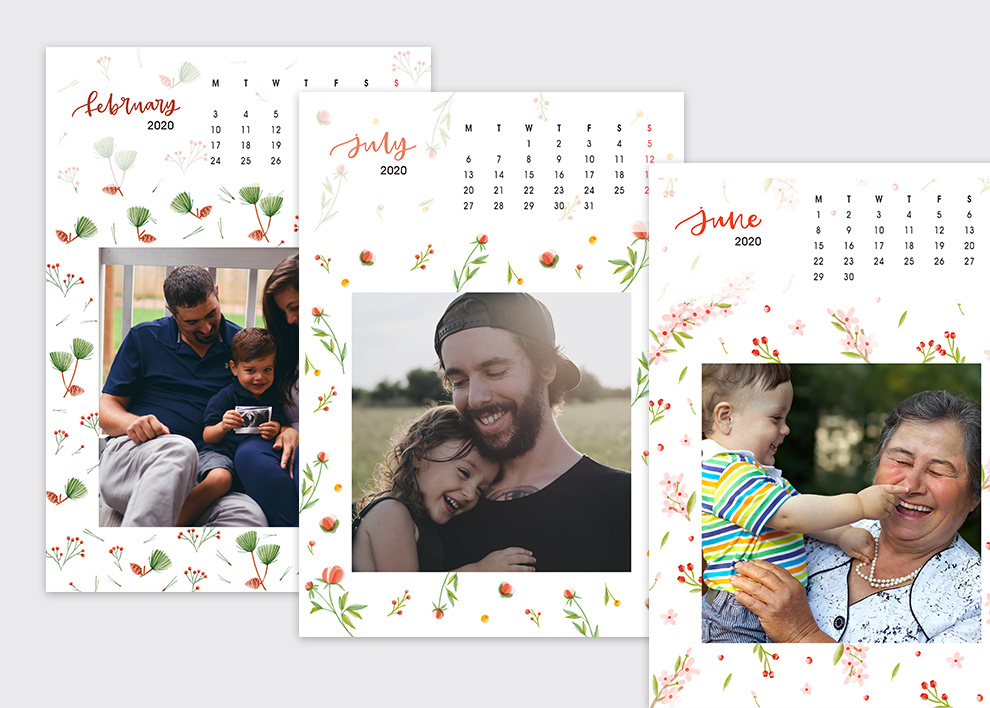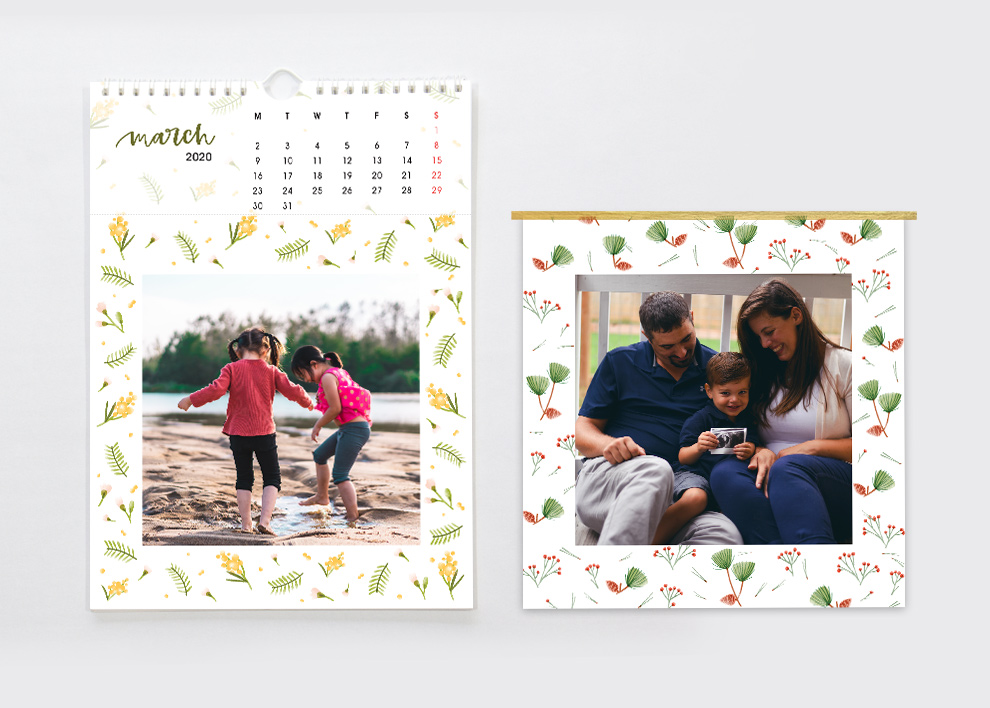 Pretty right? It comes with a holder for you to easily hang wherever you want. Use washi tape to stick the used month's photo on walls & desks. You can write a letter behind the photo too ( yep, it has S P A C E )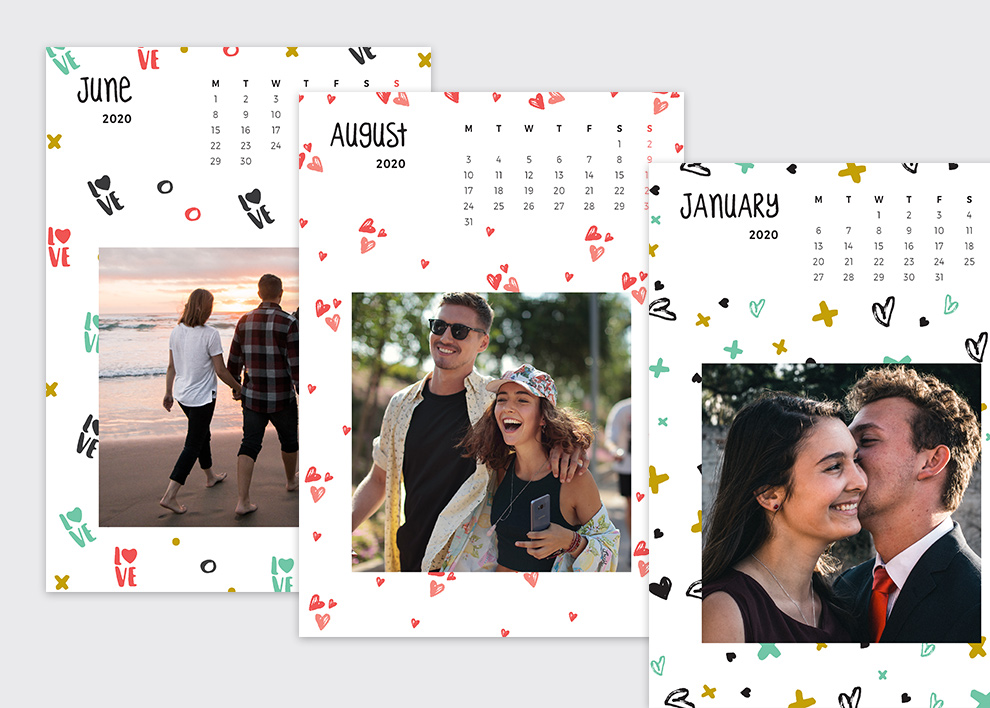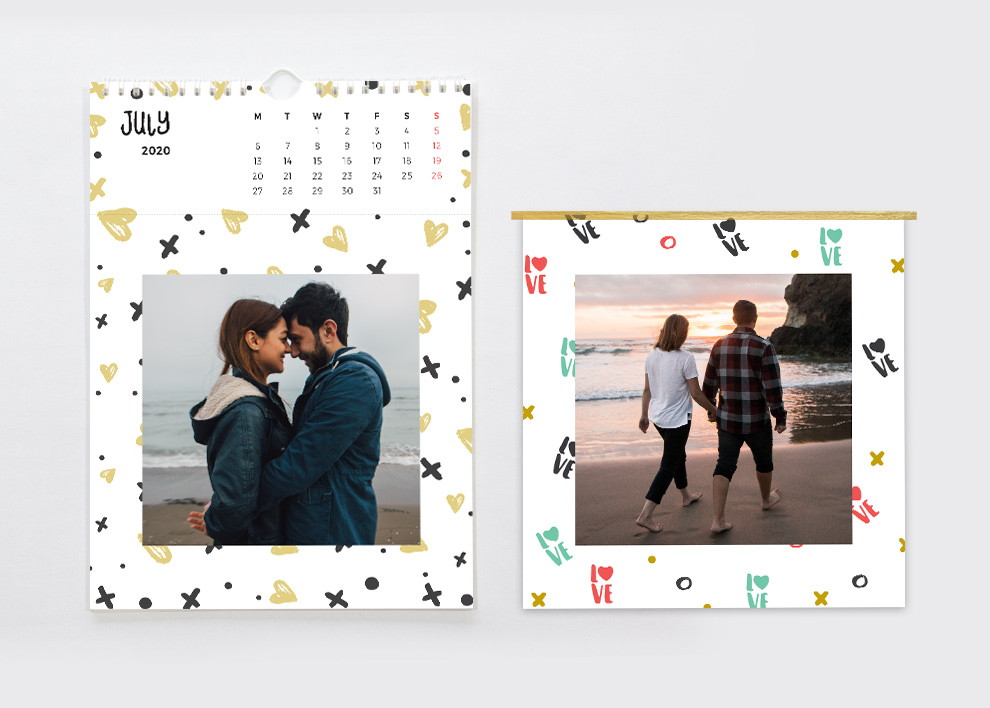 The love theme is just perfect for couples & newly-weds, family & friends. The summer theme is the right fit if you have joyful photos of your 2019.
A wall-mount portrait calendar is undoubtedly an eye-candy!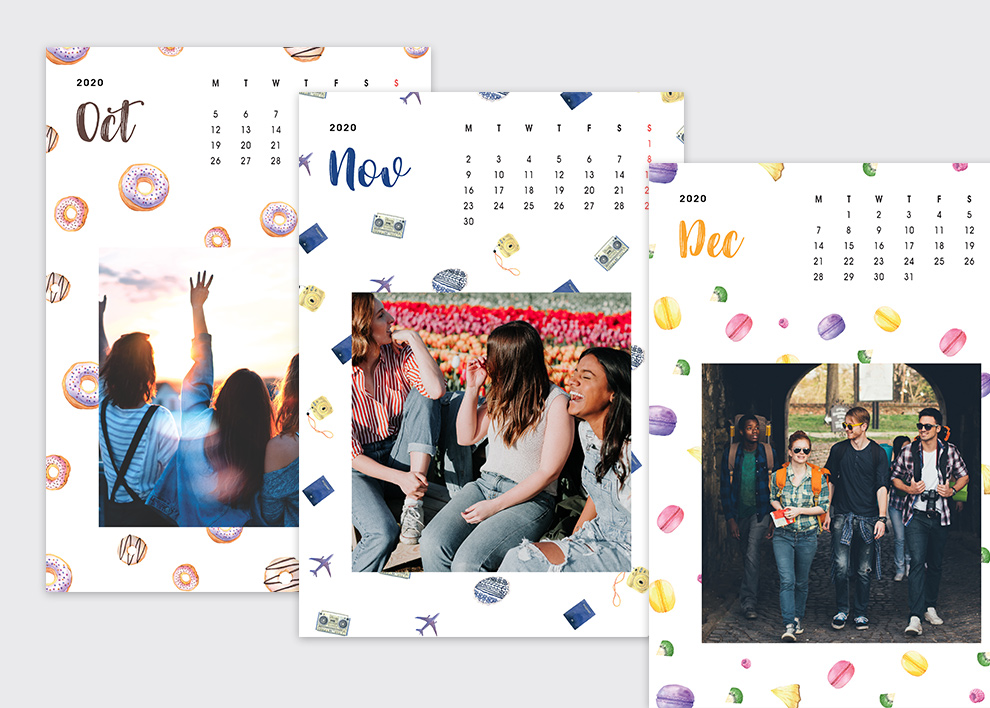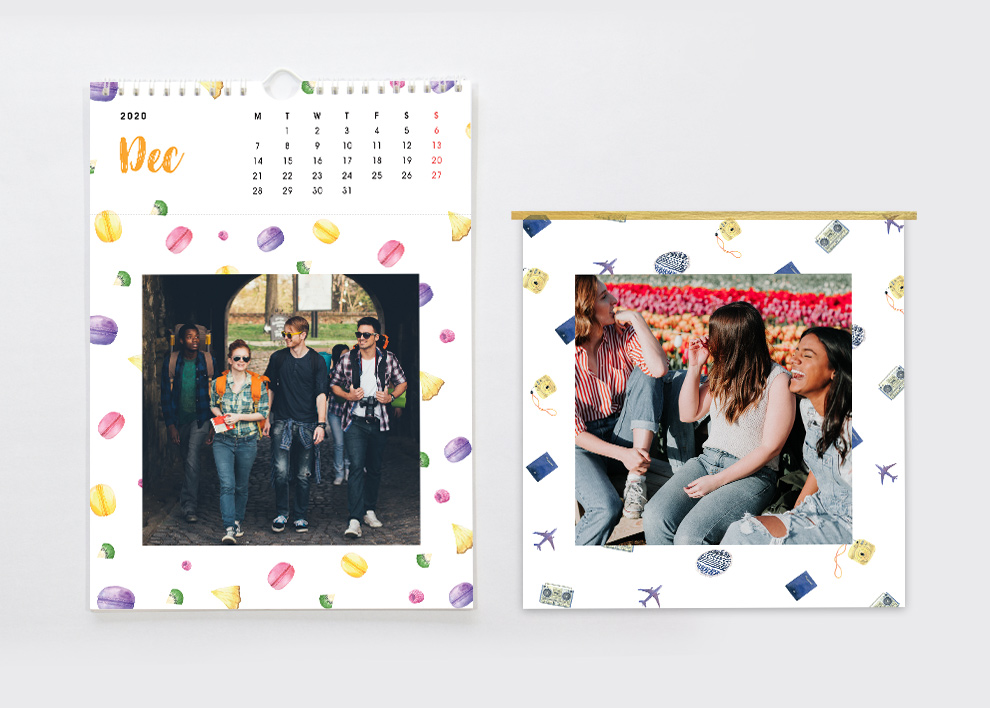 5. Desktop Landscape.
The ideal partner to your desks & tables is here. The length is a 10″ which makes it stand out of others.
We can predict a fun lived 2020 for you if you have these on your desks.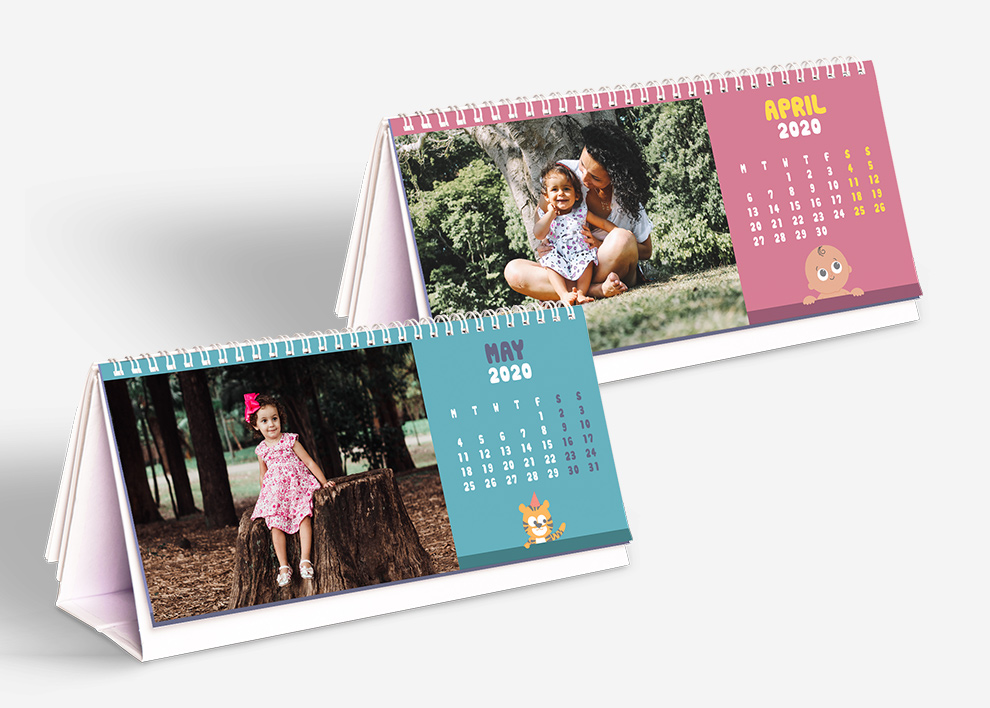 Who thought you'd be excited to get to the office! Perfect for your 9-5 Bffs.
Share this with your chai buddies.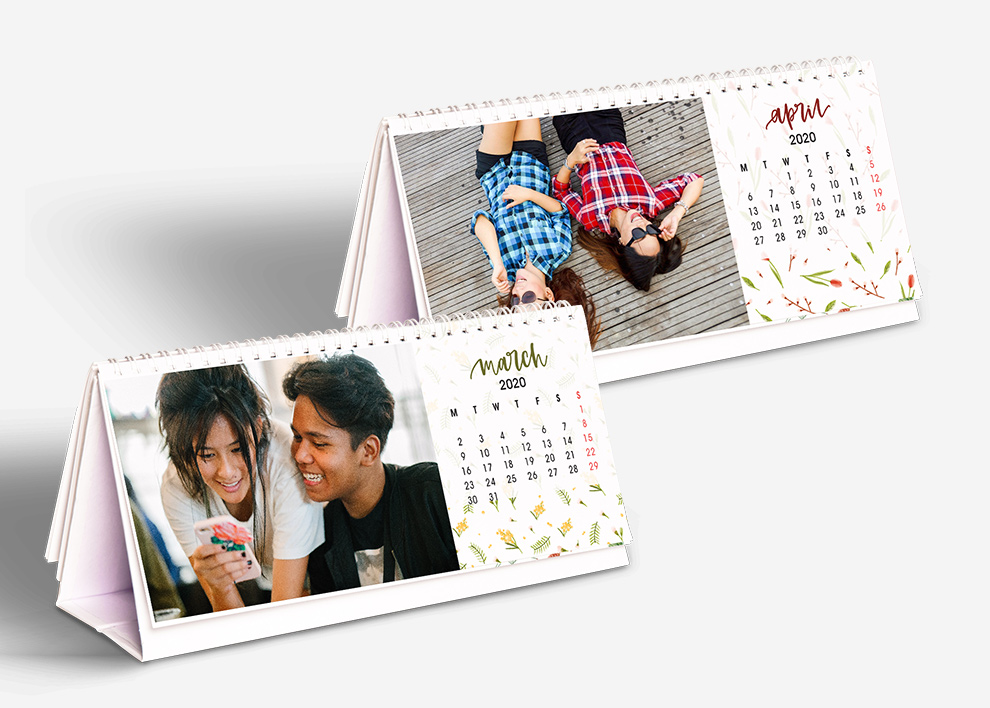 Print your travel shots in 12 months!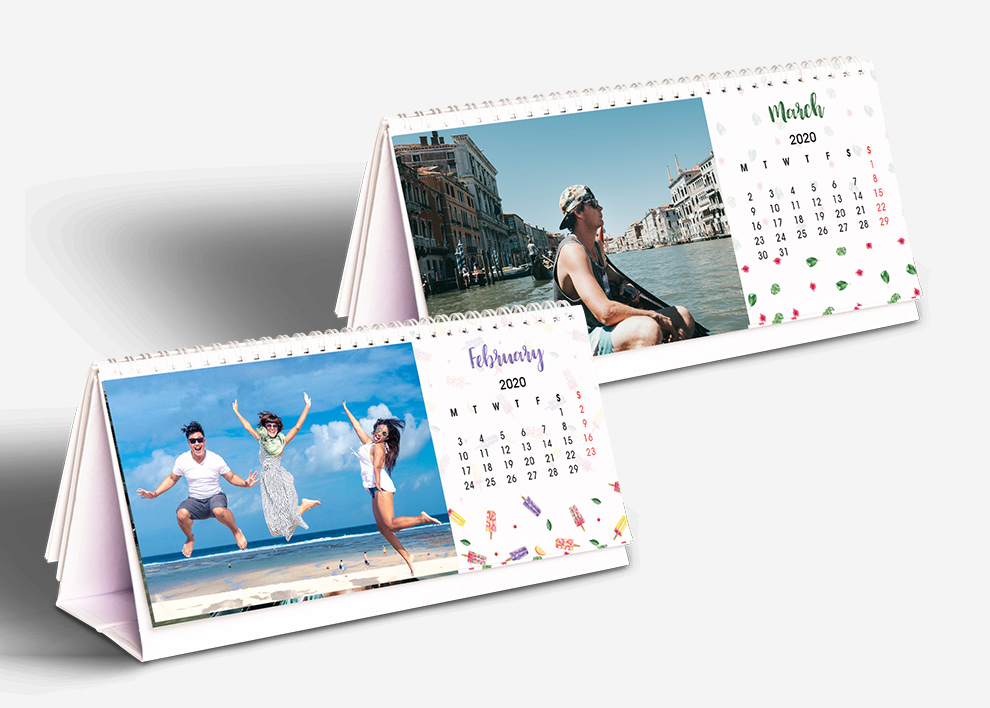 With the promise of a strong binding for not a year but forever.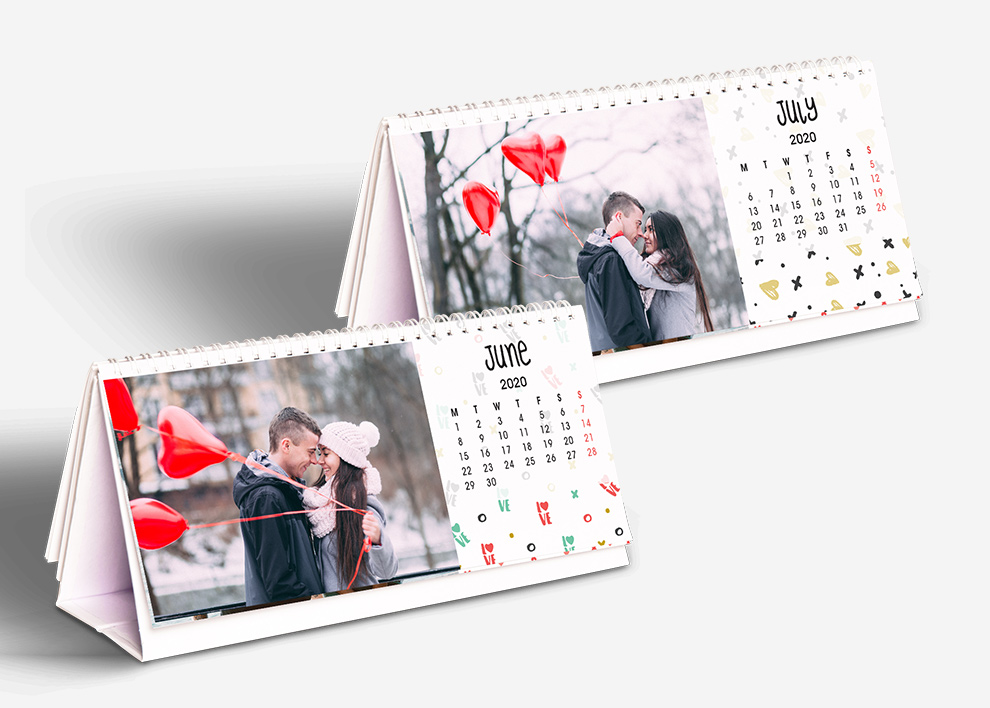 Cheers! Family time every day 🙂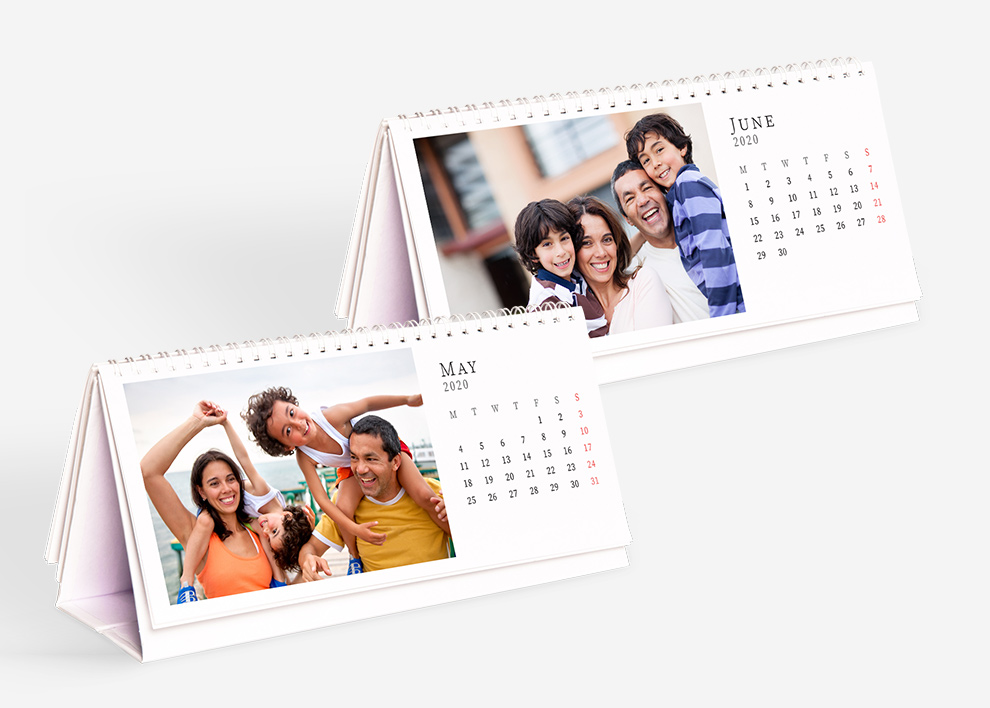 Spread The cheer at your home in the last month. Get all of these & style your rooms, kitchens, tables, offices & gift your loved ones. A complete package of happiness is a click away. Go shop.