The joy of gifting is primarily about the efforts & time we cheerfully put in to create something. It's about creating a value, which gives much joy to the creator & then the receiver.
When you choose to give a handmade gift to somebody important to you, you're sending them the message that they were worth the time that you spent in creating that gift. When compared to spending just a few minutes purchasing a knick-knack or gift card, there's a lot more value in what you make. The joy of a handmade gift is precious & unique.
Since Raksha Bandhan is approaching, we at Zoomin have a marvelous idea to celebrate a memorable Rakhi this year. #YehRakhi with Zoomin.
The uniqueness of a handmade rakhi are many, you get to create what you love & not settle for less. What's more interesting, is the CONTEST  idea where you have to create a PHOTO RAKHI for your brother/sister & win something exciting. Mix & match the designs, create your own masterpiece.
CONTEST DETAILS -Â Â DIY Photo Rakhi contest.
Here is your chance to win Exclusive Gifts voucher worth Rs.1500 for your Brother
What do you need? – Little creativity & lots of love.
Make a Photo Rakhi ( the way you want it to be ) for your Brother and share the picture here https://forms.gle/LkwPmBqeAecnNa6H9
Two lucky winners get Rs.1500 gift voucher. Also, Lucky participants get surprised Zoomin gifts 😀
The charm of a handmade rakhi will not be found in the market & you won't get a CUSTOMISED PHOTO RAKHI for your brother anywhere, though. It's that time to show your love to your childhood buddy & your hated friend.
Roll up your sleeves, get the glue & scissors down. Aha, everything comes at a cost 😉
The best part is it's quite easy to make one. A beautiful, simple yet lovely rakhi for your superhero Bhai & Best buddy Sis. Follow the below steps to create your photo rakhi.
DIY STEPS TO MAKE A PHOTO RAKHI
Personalize your rakhi by taking a stamp size or passport size picture of your brother or some candid moments that both of you had spent together, and stick it in the middle of cloth or anything you want. Make designs around the picture, using a material like zari or jute work and present it on the very day.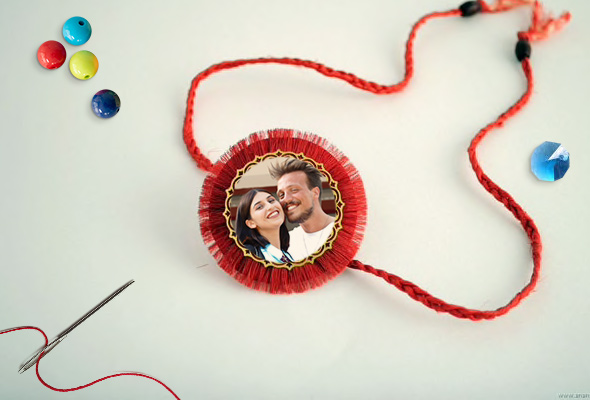 Making a Photo Rakhi
What you need:
How to make it:
Use the foam and cut it in round shape. You can choose a shape of your own, square or cylindrical looks great too.
Place zari, beads, and Kundan rhinestones or peacock feather and make a beautiful design
Keep around space in between for the photo
Add the ribbon to the back of the foam and place a round-shaped photo in the center of the design
Tada! Your surprise is ready.
Contest Terms and Conditions-
– Make a DIY Photo Rakhi in your unique style and submit your entry here – https://forms.gle/LkwPmBqeAecnNa6H9
– The last date to submit your entry is 16th Aug the results will be announced via Email on 23rd Aug.
– Two lucky winners get Rs.1500 gift voucher
– Lucky participants get surprised Zoomin gifts 😀
Watch yuh waitin for?  Create a photoRakhi & Win for your sibling.
We are waiting for your entries <3
Here's what creative head @pinkeypreet  has to share with you about the DIY idea 😀