Recently, the Zoomin team had a chance to interview professional photographer, Money Sharma. Currently based in Mumbai, Money was a journalist before pursuing his childhood dream of becoming a professional photographer. Read on to learn what must have accessories he has in his camera bag, his most memorable assignment, photography tips and more.
How did you first become interested in photography?
I credit my initial interest in photography to my dad.  He is a veterinarian and also passionate about photography. When I was a kid, he had a film SLR which always fascinated me. I never had an opportunity to use that camera but I did manage to buy a small digicam on which I learned the basics of composition. After a few years I bought a basic Nikon DSLR. Having a SLR gave me an opportunity to understand lighting and how to control it. When I become more serious about photography I got in touch with the award winning, Pulitzer nominated photographer, Arko Datta. He taught me advanced photography techniques and how to train your eyes creatively.
Not long after, I caught the photography competition bug and entered several. One of my photographs won National Geographic's Nat Geo Moment Awards. Since then, photography has become my professional life. I live, I sleep and I dream photography now!
What was your first camera?
My very first camera was Sonys Cybershot DSC-W35 Digicam. My first DSLR was the Nikon D3000.
Which camera(s) do you shoot with now?
I shoot with Nikons D300 S and at times I also shoot with the Canon 7D. When on assignment, I prefer having two cameras with different sets of lenses.
What else is in your camera bag?
A few things are always in my camera bag. Spare batteries (must have), memory cards and pen drives, a set of lenses, a mini tripod (to take HDR or slow shutter shots), remote shutter release (for long exposure, masking shots or HDR shots), flash and its remote, lens cleaning kit and a few poly-bags.

Can you tell us about your most memorable photo assignment?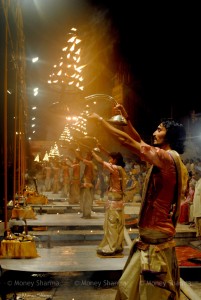 There have been many memorable assignments but the most unforgettable one has to be when I was photographing the Ganga Aarti at Dashashwamedh Ghat in Varanasi, my hometown. The Aarti is a daily evening ritual to worship the river/goddess, Ganga, in the presence of over a thousand devotees from all around the world.
Capturing this photo was a challenge given that I was surrounded by thousands of people with barely any space to move.  This particular composition of worshippers only lasts a few seconds. Another interesting fact about this picture is that it was taken on Auto Mode with a basic DSLR, the Nikon D3000. Auto mode is generally not encouraged by photographers but capturing the moment was more important to me.
Any words of wisdom you have for our readers on the top things they can work on to improve their photography skills?

Yes, there are several.
The Camera Megapixel Myth. There seems to be a myth that the more the megapixels, the better the pictures. In reality, there isn't a huge relationship between a camera's megapixels and the quality of the image, till you want to make large format prints. But even then, the image quality will depend far more on the lens, sensor, lighting, etc. This applies for DSLRs and small Digicams.
Expensive camera doesn't equal great photographer. Just like having an expensive pen does not guarantee good handwriting, an expensive camera doesn't make you a good photographer. Photography is an art and in order to become a good photographer, one should focus on photography skills. For instance, in certain circumstances a basic DSLR will give you the same results as a professional, high end DSLR.
Learn the Rules of Composition. There are basic rules for composing elements in a frame which result in more aesthetically pleasing pictures. These rules are known as the Rules of Composition. Many websites discuss these rules in-depth. Once you master these rules, you can learn how to break these rules too. Experiment, practice and have fun!
Use Photoshop to Enhance Photographs. Many amateur photographers use Photoshop to change the colour tone or add special effects to a photograph. Photography is the art of storytelling and the focus should be on bringing out the stories, capturing the moments, experimenting with the camera rather than painting the images in Photoshop. Photoshop should be used to enhance a photograph, not to change the essence of it.
The DSLR Advantage. If you are interested in developing your photography skills, familiarize yourself with DSLR cameras. Trust me, it's not as complicated as you think! A DSLR will help you learn how to capture moments, focus, play around with backgrounds, experiment with light and the list goes on..!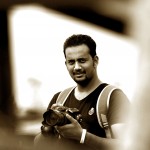 To learn more about Money Sharma and to view his portfolio, go to www.moneysharma.com. You can also follow him on Facebook.