Everyone loves frames for the simple idea of how classic and conventional pieces of art are they. It carries a plethora of decor and emotions together with its fine rich style. Accompanying our homes since history, the love for framed prints have grown deep into our cultural roots. We are a firm believer that every wall should have a framed print that gives the home a serene touch of beauty, royalness & character. Whether it's your family frame or the kid's artwork, a home gets its much-distinguished aura only with great looking frames.
Framed prints have been our most favourite product in the decor section and we were always inundated with the idea of introducing new premium frames with more styles, finishes, features. To make the decorating process simple yet fun. After all, who doesn't loves variety?
Get ready to indulge in a sensorial treat with pictures that define you & frames that engage the mind and soul. If there is anything that can make the interiors of your home look like the epitome of sophistication & luxury it is a unique piece of art. With the new collection indulge into the right way of decorating your home with a personal touch of your pictures & the elegance of framing. Presenting the stunning combination of luxe & emotions in a wide range of Premium Frames. 
---
WELCOME TO YOUR NEW HOME.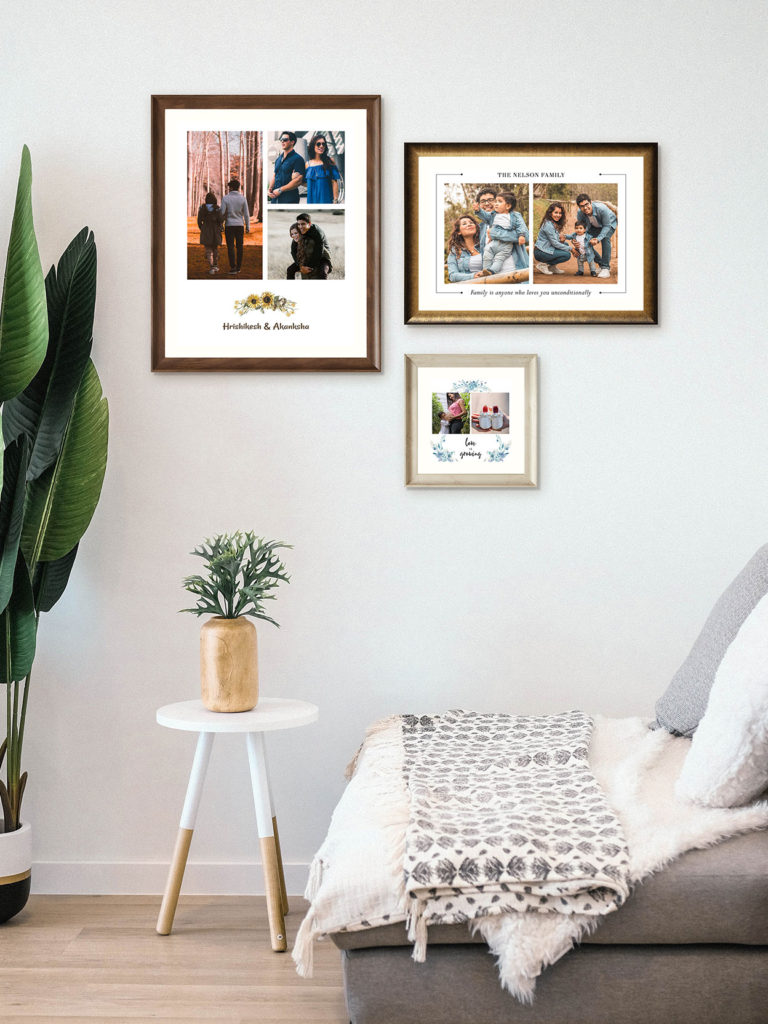 The new collection is simply full of choices to create your house of wonders. It's an exclusive Mega collection of hand-picked frames styles culled by our experts, comprising of 50 styles in total to choose your every frame thoughtfully, 6 major categories in finishes with additional colour options and 5 themes in total across our store.
Our intricate Frames are made from the reinforced fiber with a wood finish and textures you can't get your hands off.  A stunning combination of design & high quality.
Click here to view more details. 
---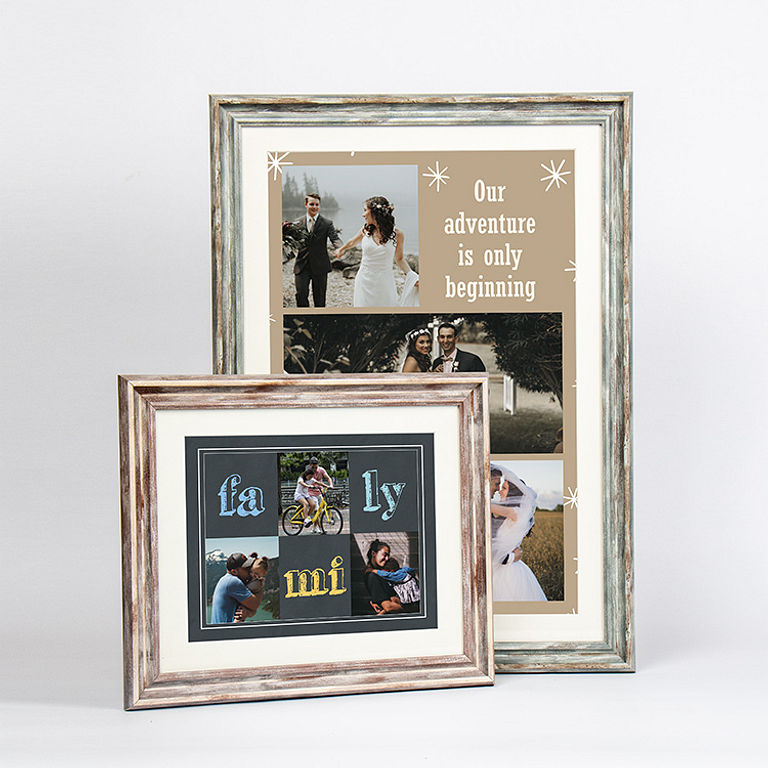 A style that embodies bohemian decor & modernity. Perfect for modernizing a space and infusing your abode with fragile modernness. Add a touch of style to any setting with a distressed wood frame that hits all the right notes. It's modern, chic and sure to catch the eye all at the same time.
Print Ideas
Choose pictures from your recent trip, selfies that you love and pictures with friends. Also perfect for an art that you loved on Pinterest or Unsplash.
Display Tips
Pair 3 frames in different colour and sizes on a small corner of your room's wall with pictures you would love to wake up to every day.
Specifications
Available in 5 sizes with colours Brown and Green. Ready to mount.
---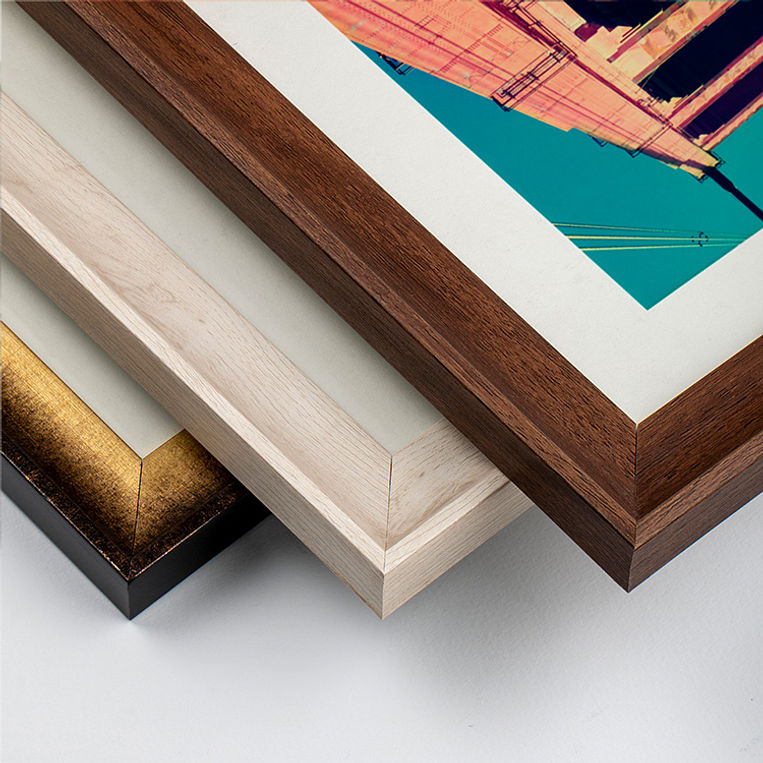 Woody frames are love for a reason. Not only they add a touch of class & boldness to your home but it feels exceptionally real to hold them. The right stunner for your walls. Just what you need when you want to add real craftsmanship to your home.
Print Ideas
Family pictures, the first walk of your kid, the graduation day, or your wedding photo. With themes & text option, your framed prints will turn out to be a surprise for you on unwrapping.
Display Tips
Let this frame be the centre of attention for the big pictures. With golden, brown & white colours, you can create a thematic corner. The white colour is preciously gentle and can be added as a single piece to your drawing-room.
---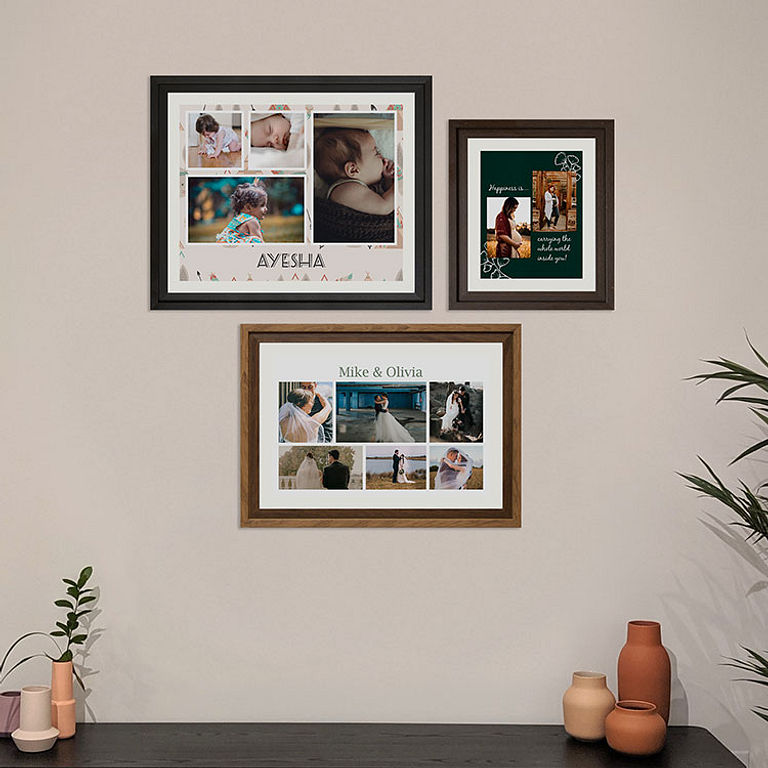 As the name goes, this frame is perfect for your gallery wall needs. The colours & wood quality makes it ready to hang and be the centrepiece of your nest, also a great conversation starter with guests.
Print Ideas
Ideal for documenting the portraits you'll want to pass down for generations – everyday photos, baby photos, and beyond.
Display Tips 
Do not feel compelled to wait till you have all the pictures & frames collected. If you have a handful of them, you are good to get started. As time goes, you collect more & let it grow organically.
Specifications.
Exciting colours i.e Walnut, Black, Tan for this range makes it a must buy.
---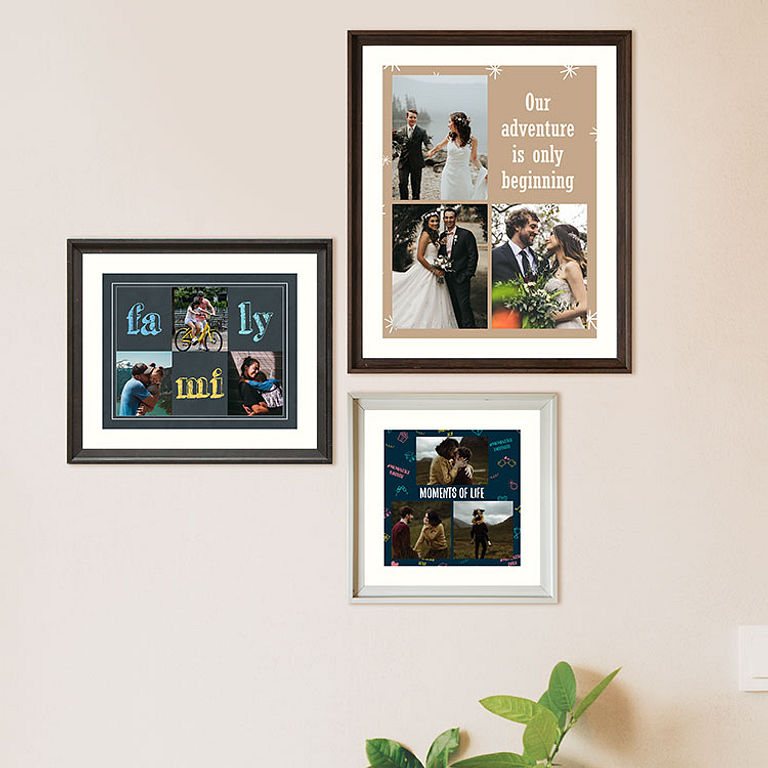 Smooth, thin and ready to add an aura to your home. This frame is everyone's favourite because of its clear style that bespoke quality. The smooth finish makes it ideal for any wall and to caress your dear pictures.
Print Ideas 
Print a set of all theme prints and use each for different rooms. Family, baby, love, travel themes with designs make your prints look professional & unique.
Display Tips 
Above the sofa couch, in the master bedroom or your home office. You can choose to create a gallery wall in asymmetry style. It is much more casual for a home setting & gives you the freedom to add more as you collect.
---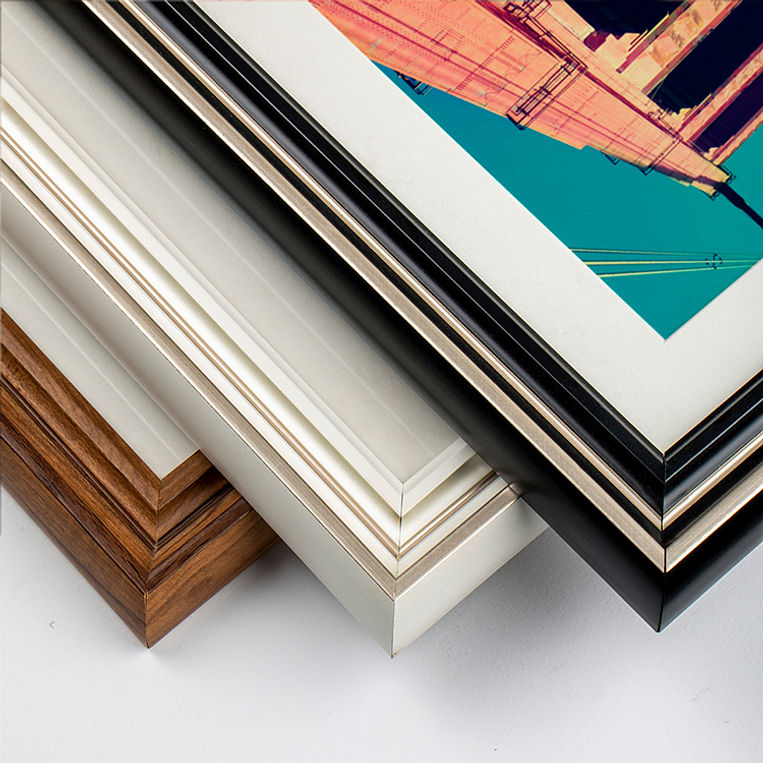 This collection is an ultimate yes for your home & gifting needs. Everyone you know needs to own this one. The sheer beauty of the colours & thickly layered borders makes it a must-have for your home. If you wish to make your walls happy, this is the right pick for you. The Frame to turn your photo into a masterpiece!
Print Ideas
Print your most favourite pictures & the best picks from big milestones of life.
Display Tips
There is a myriad selection of picture hanging hooks/nails available now based on the size & weight of the frames. If you are in a rented apartment & do not want to punch holes, try 3M stickers. Choose based on your needs & hang them all up (make sure they are all straight – use a leveler)
---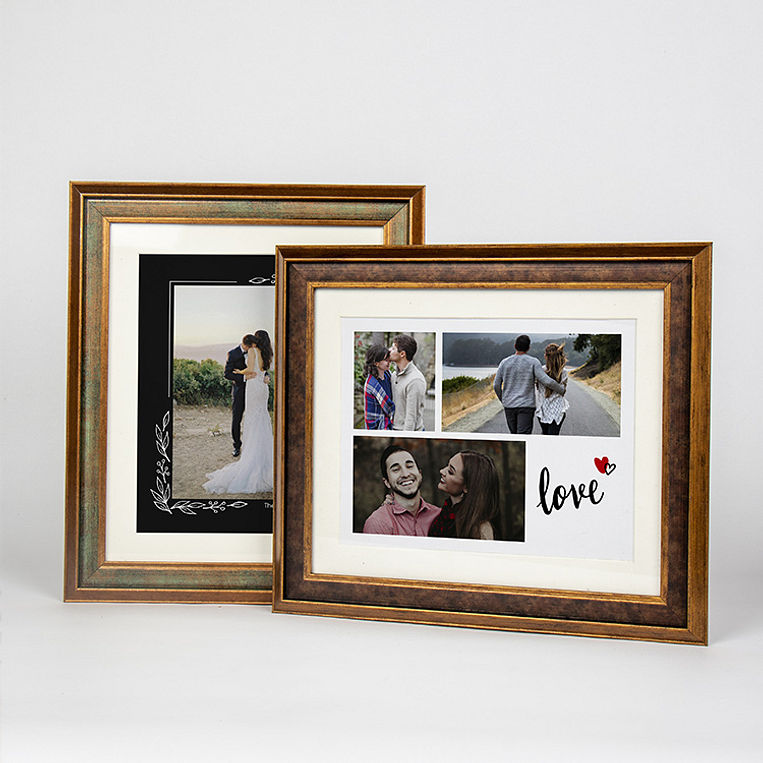 The beauty of a metallic brush finished frame is that it uplifts your picture. Ever seen lush frames with historic events & memoirs printed and decorated with pride? These frames are the answer if you are looking to add a vintage yet modern touch to your home.
Print Ideas
Your favourite photography, parents & family pictures, couple pictures.
Display Tips
There is no need to rush the process. The aim is not perfection here! We put so much emphasis on the final product that we forget to enjoy the process sometimes!
---
#TheFrameAffair
We cannot stress enough how much we love gallery walls. There is no easier way of displaying your memories, your life journey, your interests, your passion than a gallery wall. Seriously! When done well, it is a beautiful reminder of things that you appreciate, admire & are thankful for. Click here to know about creating gallery walls. 
---
Grid layouts & Themes for Framed Prints. 
Peddling the variety of customization available you can now create grid framed prints with designs and layouts. Curbing the hassle of creating collages & designing photos, all our professional designs are now instilled into Framed Prints.
Choose themes, add multiple pictures, select the colour of the frame …all this at one place.


---
Transform your cove into an artistic paradise of personal pictures and photographs close to your heart. With the entrancing confluence of contrasting colours, high quality and elegant styles, your home is bound to breathe it's best decor.