We're back with part 2 of our Canvas Print feature ! Â Today we wanted to share with you a user creation. Â We were walking through production the other day when we came across Jabeen's Canvas Print of her two adorable little girls. Â We couldn't resist the cuteness of these siblings and had to find out more.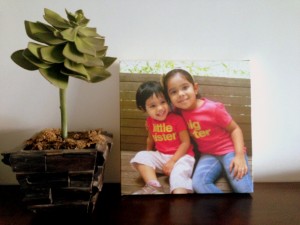 Can you tell us more about your canvas print and what inspired you to create it? 
My canvas print is a picture of my two daughters. Â It was a photo that my husband and I loved because it captured a moment we wanted to remember always. Â Kids grow up so quickly! Â I was also looking for artwork to place in my living room and thought that the canvas would do nicely – something more unique than a regular 8″x10″ print in a photo frame.
What type of canvas did you create? 
I decided to create a 12″x12″ gallery wrapped canvas because I liked how the image wraps around the frame. I thought it would make it look more professional and I'm happy to say that it does!
What did you think when the canvas prints arrived?
My older daughter asked me who had painted the picture! Â That's how beautifully it turned out. Â I think printing the photograph on canvas made the photo even more special.
Thanks so much for sharing, Jabeen!  If you're interested in creating a canvas print like Jabeen's here are the steps: 
1)    Click here and locate Gallery Wrap. Select 12″x12″ in the size dropdown menu and click Create.
2) Â  Â Once inside the online builder, locate the photo you would like to use and drag it into the canvas.
3) Â  Â To add clipart, text or a background, click on the tabs located near the bottom of the screen to browse our library.
4) Â  Â Once you're done creating, Preview your creation and Add to Cart!
We hope you've been inspired by Jabeen's Canvas Print like we have!  If you have any questions about our Canvas Prints, check out our Canvas Print FAQs.  It covers all sorts of great info like how to make a Canvas Print and helpful tips.  Enjoy!