Anniversary giftings can be tricky when you are out of ideas. You want to surprise them, curate a romantic gift and also make it memorable. The morning flowers for your wifey & breakfast at bed for hubby are great for the morning every year while the dinner dates are a necessity. But what's the ideal gift to make it the best day of the year? Well, the answer is a Keepsake. A Photobook.
Thinking about how do IÂ make my photobook look new ( if already gifted previously)? Step in their shoes and imagine receiving a beautifully designed cover that you have never seen before. What's make this photobook unique and your face you smile is the theme. As you start turning the pages & seeing moments you almost forgot screaming " You had pictures from this day?" but here they are making you walk down the memory lane with your partner besides who is still making efforts to make new memories with you.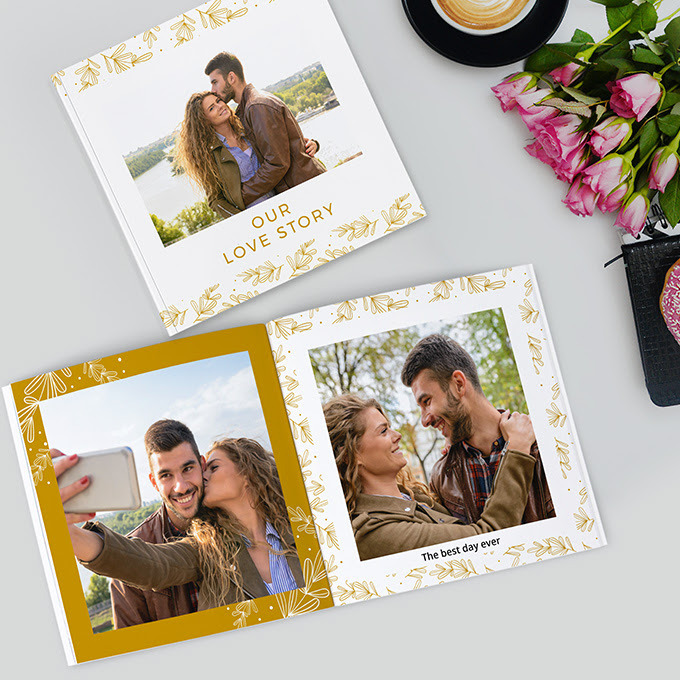 A thematic Photobook is all you need to rock your anniversary every time but also document those precious memories of your togetherness. Because in life it's only memories that stay.
When it comes to being married, capturing the astonishing, big, small, and in-between moments is all part of the fun. These 11 PHOTOBOOK IDEAS are sure to bring back some of the most sparkling memories of your life and will be souvenirs that you will cherish forever. Whether it's an 8×8 Softcover or a 10×8 hardcover or even some prints of the life you've created together, you will love looking back on your love and how it's grown.
1). A mix of all years spent
If you are the one who takes tons of pictures with your partner we are sure you have folders of favorite shots. A mix of all years spent photobook is the best when you want a bit of everything from the good times spent. With designs, texts, and dedication messages you can make it a unique and best gift.
Cover title ideas – You are a beautiful mess, Wifey.
Our Love Story is my favorite.
Shades of love.
2). The 2020 Affair
This year indeed is the year which has been gallops of discoveries every day for everyone and especially couples. Chip in all the moments of your 2020 in a book and dedicate how you have still loved them and how grateful you are to be able to spend more time together. The selfies of every day lazing around and attempting to pose like your favorite celebrity couple in the runway of your home. All the crazy things that made your year insanely memorable and the one you would want to always look back to and tell stories about.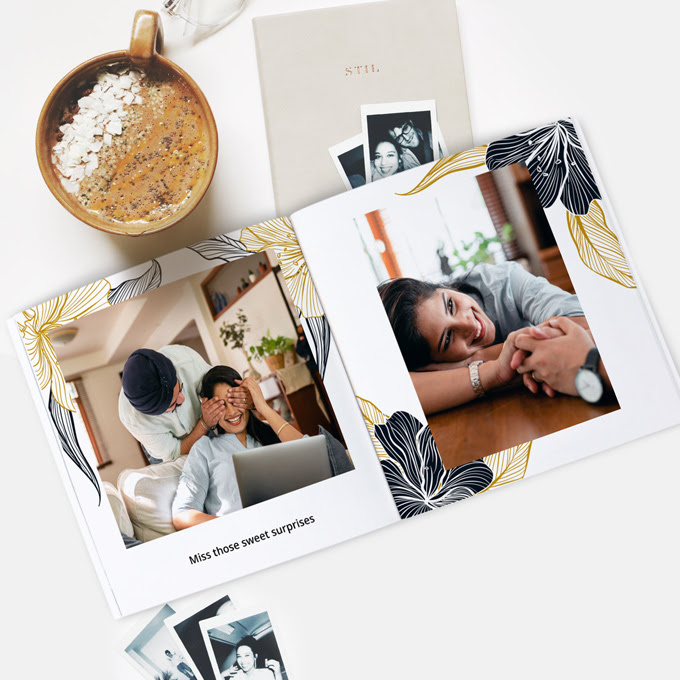 3). Then and Now ( for all the vintage and school lovers )
You have grown up together and unquestionably possess the benefit of time. Then and now pictures are a much underrated and necessary album for every couple who are together for a long time. Watching your young pictures now is embarrassing but remarkably the most exceptional. The focal point of celebrating anniversaries is rejoicing the years spent and what's best than a " then & now" photobook that will go down to generations.
4). What I love about you
A very special feeling is when you say someone what you love about them. Following the marriage, we seldom forget to go back to those days of asking silly questions like why do you love me and complimenting with the best we can. Visual presentation with words to this forgotten question will make them fall in love with you again. Carefully articulate the pictures of your partner in the action of things that you love about them. Start by making a list & filtering the pictures so that you know what you have in hand for the book. Once you get an outline of the pictures and text you want to dedicate, focus on collecting the pictures you don't have, and capture new. This will be a cherished keepsake for your partner in the years to come and certainly the most meaningful & romantic gift 🙂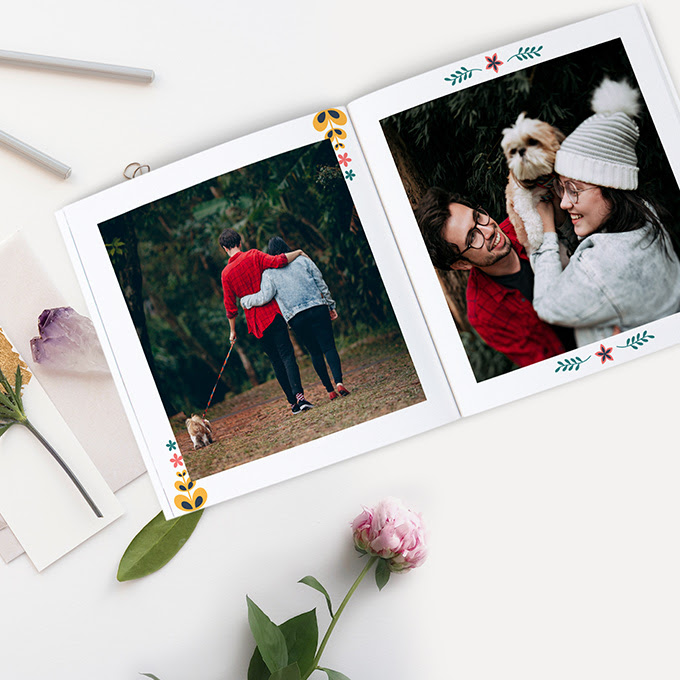 5). Our adventures
A collection of all the trips that you have taken together and also a few pictures that showcase the adventure of your relationship or dating life. Curate the pictures of all your trips and make a Photobook that will make them smile and take another adventure with you.
6). All jokes only
Happy are the ones who have more chapters of laughter to their book of life. You know how much humor is imminent and probably the most mattering quality we all love to have in our partners. Say a Thank you for those memorably insane times with a Book of secrets. (only you two know & still laugh at) The secret laughter chapter is a must to be printed and imprinted on your love story.
7). Jab we met ( how we met storybook )
The beginnings are always special and bring butterflies to you till now. Usually, all couples tell how they can never forget their "jab we met" story because who does? The moments of meeting and then falling in love are the extraordinary days that you will remember for the rest of your life. Preserving them will be the best gift not only to your partner but to the shrine of your marriage.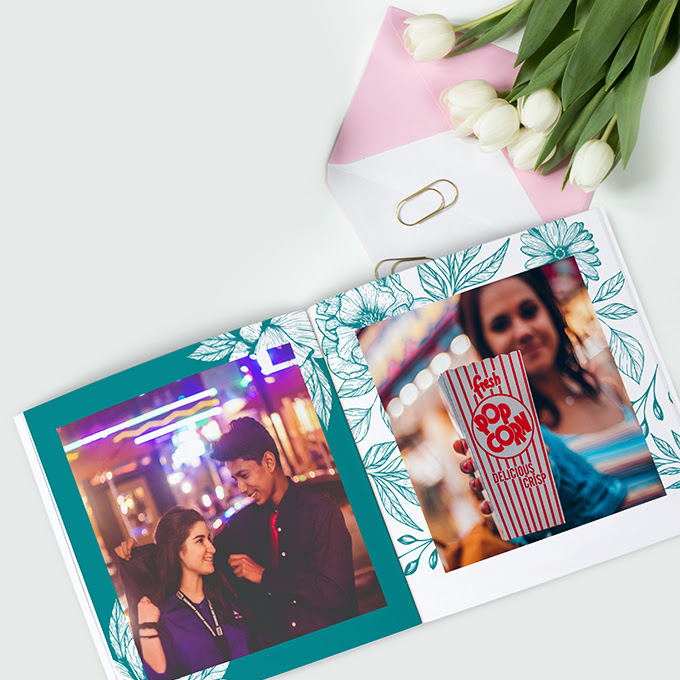 8). Our Firsts
A collection of all your firsts like the first movie, preserving the tickets, the first selfie & Whatsapp chats and many others are an ideal photobook gift idea for the new couples who are still blushing to their many first experiences together.
9). The important moments
The milestones and the bigger events that you both have walked together into are the iconic beauties of your life that you swear by. The good times, the great times and the bad times, were all calming and worth taking with your partner. Your marriage, the birth of your babies, new house, first Diwali, baby's achievements, birthdays, friend's reunion, and oh so many. The moments that made your life happy, should be printed and kept close 🙂 This Photobook will be the most cherished one you can give to your partner.
10). Thanks for sticking with me
Thank you for accepting the mad me, loving me in all the darkest times of life, loving my flaws & teaching me patiently when I was wrong. Thank you for sticking with me. Thank you for loving me 🙂
An emotional letter is a must for your anniversary day. Did you know our books allow you to choose an entire page for a dedication? Write a romantic message to start the book with & include excerpts of thankfulness, memories & all things lovely in between.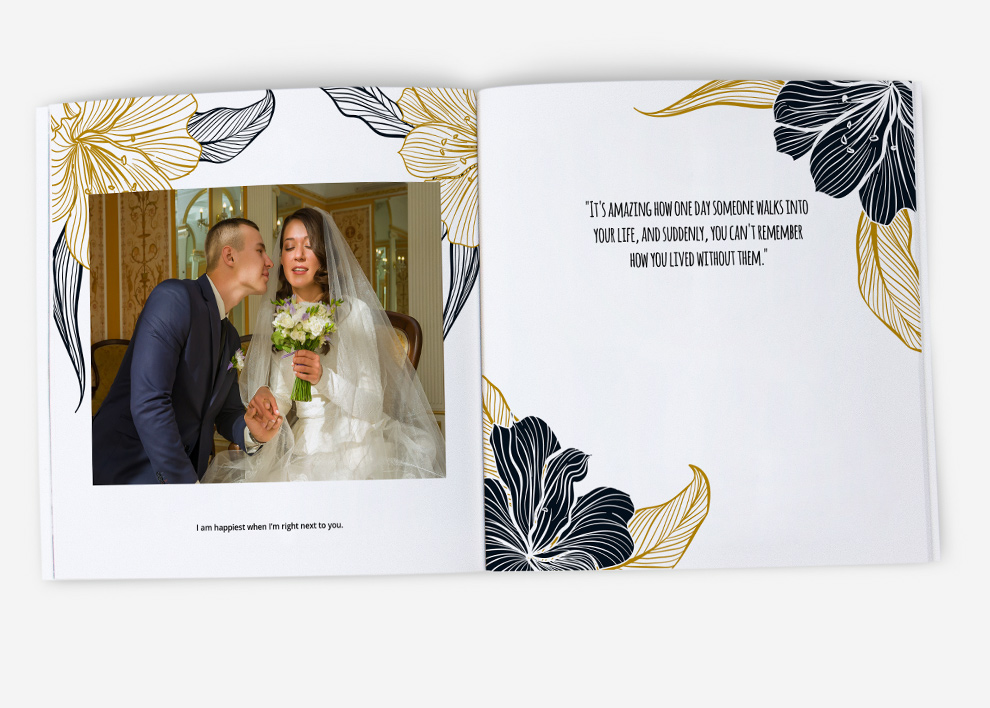 11). What makes me Happy
Document what makes you happy about them that you cherish the most & that makes you happy every month to be with your partner. Name it as 20 reasons I will always love you or You are my happy drug. These books are young & romantic and always make everyone happy. A win-win for you 😉
12). The Song Book
There are many songs that you must have dedicated to your better half and the tune will always remind them of you. A sweet yet tricky way to always gate crash their memory. How about creating a book with songs on a page and a picture on the other? A melodious Keepsake, indeed. Because every love story has a song.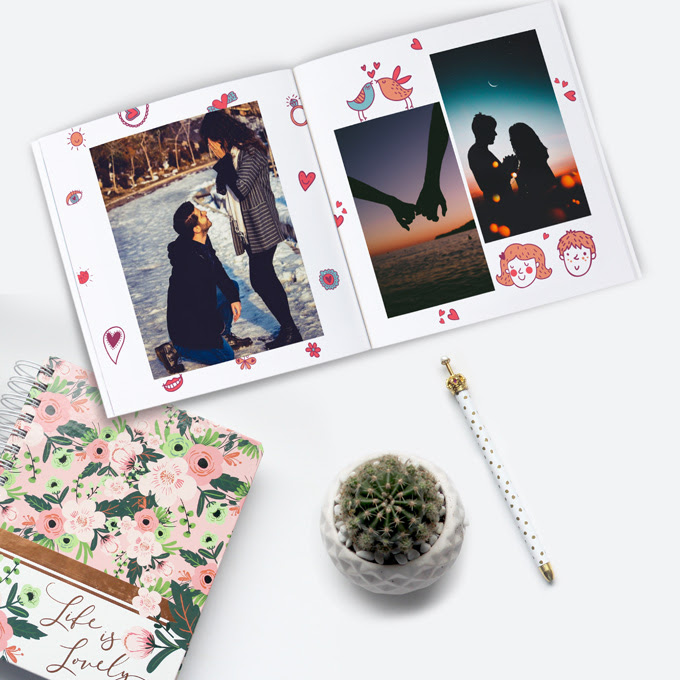 Start creating your Anniversary Photobook with the idea you love the most. Check out the new love & wedding designs for photobooks and make your surprise stand out. Use stickers to add more art & story. With our wide range of designs, your pictures will never look old. We promise 🙂
New to Zoomin? Read on How To Create A Photobook. You will enjoy this 🙂